Hendrick Hudson Students Make Strides in Sports Gear Charity Collection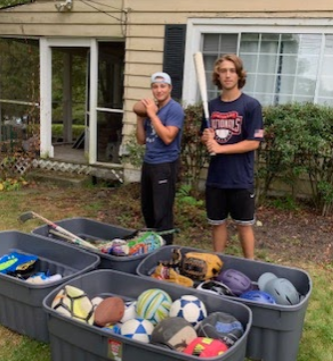 Next time you go to throw away old sports equipment, consider donating them to a good cause instead. Millions of children can't afford the high price tags of many sports gear and rely on donations. Two Hen Hud high school juniors, Tyler Robinson and Josh Shea have decided to help by creating an organization that collects and donates equipment to underprivileged children worldwide.
Comeback Kids Sports is an organization created by Tyler and Josh, who wanted to make a difference in many underprivileged kids' lives. After realizing they had an abundance of old sports gear being unused, the pair were inspired to create the organization. Being athletes themselves, Tyler and Josh knew firsthand how expensive gear could be, and they wanted to put their old gear to good use. Sports mean a lot to the pair, and they wanted to spread their message that, "No matter where you are in life, you always have a shot to comeback", as Tyler said. Just in the past few months, they have collected and given out over 1500 items. Items collected get packed and shipped to places all over the world such as Africa, Columbia, and low-income areas of the US.
With such a fantastic start to their organization, there is no doubt the pair will continue to do great things, but they need your help! You can donate any old equipment you have lying around by visiting their website http://www.comebackidsports.com/, and clicking on the donate button to schedule a drop-off/pick up time. You can also contact Tyler and Josh for any questions or information at [email protected] and [email protected].