Hen Hud Wrestling Wins at Sectional Championship
The Section 1 Division 2 Wrestling Championships were held at Hen Hud on February 11th, where an energetic crowd from all over Westchester came to cheer on the competing athletes. The section title was taken by Nanuet, while second was taken by Pearl River, and third by Putnam Valley. Hen Hud placed in fourth, only 4 points behind Putnam (187 to 191).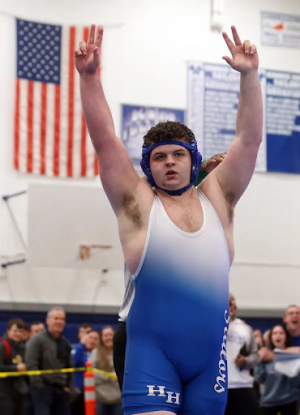 Kyle Peske and Mason Dietz took home wins for Hen Hud in their respective 189 and 285 pound weight groups. Peske and Dietz both faced Putnam athletes, with Peske defeating Alex Gecaj and Dietz defeating Jason Tesher. Peske was thrilled to win his championship match, stating that he knew he "was gonna […] work [his] heart out" to win this section title. Dietz dedicated his championship match to his late grandmother, a deep-rooted member of the Hen Hud community. When asked by Lohud what being Section 1 champion meant to him, Dietz responded by saying that, "It means a lot to me, because I lost my grandma over the past year, so this is all for her, and it feels great to be able to win it at home, too."
Coach Shane Turrone saw this championship as a resounding success for Hen Hud. Turrone has been head coach for 7 seasons, and this is the first year he was able to send 4 athletes to the finals of the sectional tournament. On top of that, Kyle Peske and Mason Dietz were his first two sectional champions as head coach, making this championship "pretty special and something I will always remember." When asked what a sectional championship means for a wrestling team, Coach Turrone stated that "[a] sectional championship is what most wrestlers work for and for us to have two of them this season is fantastic and something we can really build on in the future."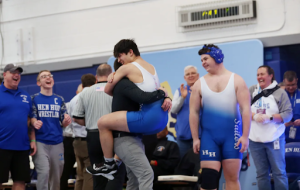 In total, Hen Hud had 15 athletes competing in the Section 1 championships, with 10 out of the 15 being place finishers. At 126 lbs, freshman Shawn O'Mara took 2nd and junior George Wright took 5th. At 138 lbs, junior captain Giovanni Gioio had an upset when he defeated the number 2 seed Grant Kelly from Pleasantville, and rose all the way to the final. He lost to number 1 seed Bobby Hardwick from Nanuet. At 145 lbs, senior captain Kevin Skelly finished his wrestling career with a victory against Putnam Valley's Nick DeMichele to secure 3rd place. At 158 lbs, Ismael Andrade also took 3rd place. 160 lbs senior Mohamed Mbareck took 6th, 215 lbs sophomore Gabriel Sotomayor placed 5th, and lastly 285 Junior David Perez took 5th. 4 Hen Hud students, Shawn O'Mara Jr, Giovanni Gioio, Kyle Peske, and Mason Dietz, earned all-section.
Sectional champions Nanuet had a rocky start, but finished strong in a season that saw them accumulate a total of 269.5 points, the second most in their school's history. The icing on the cake is that this was Nanuet's first sectional team title in ten years, breaking a decade of stagnation for the "Golden Knights." 
Putnam Valley coach Will Carano set a historic record by becoming the coach with the most Section 1 champions, surpassing the previous record holder, Joe Amuso Sr. of Fox Lane High School. Carano has now trained 35 Section 1 champs with this championship, edging out Amuso Sr. 's 34 Section 1 champs.
Leave a Comment
About the Contributor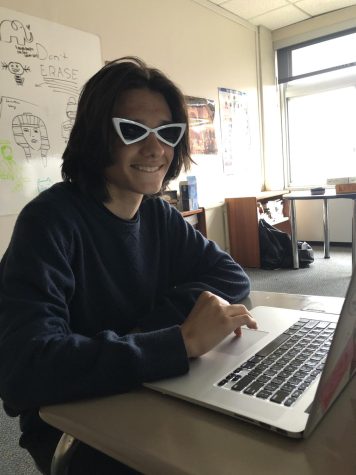 Francisco Aguirre-Ghiso, Writer
Francisco Aguirre-Ghiso is currently a junior at Hen Hud. This is his first year writing at The Anchor. His main interests are film, music, and art. You...