Mamma Mia: A Story of Sisterhood
Warning: This article includes spoilers!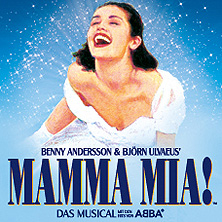 WESTCHESTER, New York – On March 17th, 18th, and 19th, Hendrick Hudson High School's theater department put on Benny Andersson and Bjorn Ulvaeus' Mamma Mia. This was the first production put on this year in the theater and the second show put on in the new theater. 
The play follows Donna (played by sophomore Nava Minichino) as she is reunited with the three possible fathers of her daughter, Sophie (played by junior Mia O'Malley) just before her daughter's wedding. Chaos then ensues in this jukebox musical classic as Sophie desperately tries to find her real father before her wedding takes place.
Mamma Mia, at its heart, is a campy feminist musical about love and sisterhood. Along with passing the Bechdel test (a criteria in film that determines if a movie portrays women fairly), the story has several strong female characters that each support and love each other through life. Donna is a single mother with a close relationship with her daughter. She has two loving lifelong friends, Rosie (Ally McManus, Senior) and Tanya (Amy Wilkinson, Senior)– each with distinct personalities that showcase female love and independence through their individuality. Sophie's own friends, while not playing as large of a role as Donna's, exemplify sisterhood just the same. 
The show leans into the idea of choice. Sophie has a lot of power over her life and many people, namely women, in her life that will support her no matter what she chooses to do. Whether it's getting married to Sky, her finances, focusing on exploring herself, or traveling the world, Sophie is supported and loved.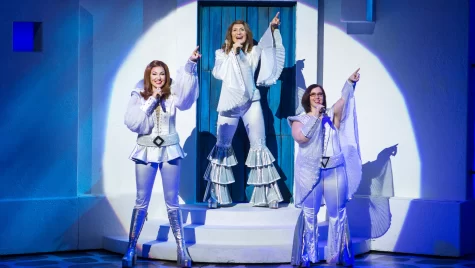 Donna and Sophie are essentially mirrors of each other. Donna was not given chances and opportunities like the ones she gives to her daughter. She was pregnant and kicked out by her own unsupportive family, but still able to start and run a successful business. She fights against her family's lack of support by giving Sophie the life she always wanted. They both have deep, female friendships, and a young Donna and her friends is demonstrated through Sophie and her own friends. 
At no point in the show are the three potential father's of Sophie treated as something shameful. It is merely something that happened as a part of Donna's spirited youth. Sophie focuses on finding her true father, rather than the circumstances that led to her having three potential fathers. In the end, when (SPOILER) Sophie chooses to have Donna walk her down the aisle rather than one of the men, Sophie goes against the traditional idea of family. Her family, rather than being a father and mother, is made up of those who love her. Whether it be her dear mom, Rosie or Tanya, one of her fathers, or her own close friends who support and love her through thick and thin. 
Throughout this musical, Donna and Sophie show in their love for each other that feminist writing can be found anywhere. 
Leave a Comment
About the Contributor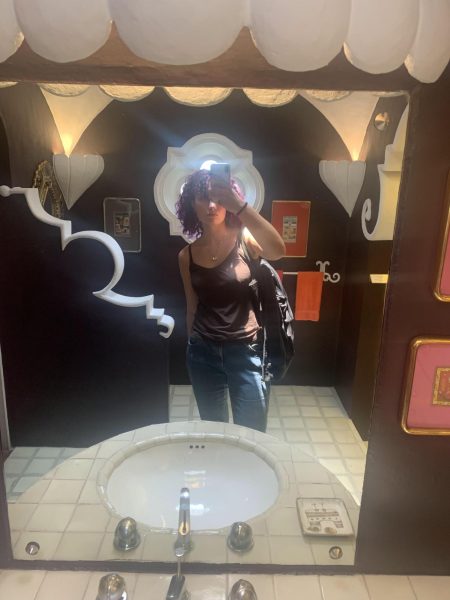 Elaine Clarke, Opinion Desk Editor
Elaine Clarke is a Senior at Hendrick Hudson High School. This is her fourth year writing for the newspaper and first year as editor. Alongside this,...