Fit of the Week: 10/24-10/30
Over the past week, our photographers have been on the lookout for outstanding outfits at Hendrick Hudson. This week's winner was Greta Arnold, with runners-up Sage Faulkner, Jocelyn Romero, and Sofia Suflita.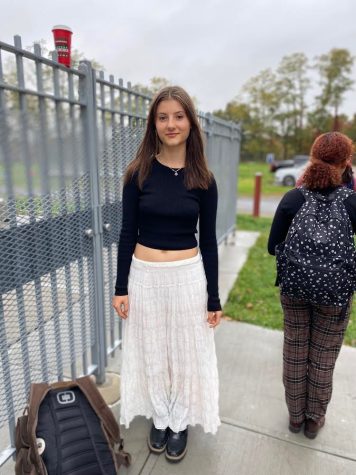 Greta presented a seemingly 70s inspired black and white look, displayed by the contrasting tones of her outfit and her flowy midi skirt. A slightly cropped long sleeve top juxtaposed with the gentleness of a white, low waisted, light midi skirt. Below the skirt, black loafers with cork soles can be seen. Each individual component of this look established Greta's sense of simple elegance. Keeping the outfit's pure aesthetic, a complimentary sleek, silver necklace and small hoops earrings are worn. 
This week's vote included contestants from every grade. Jocelyn, a senior, is pictured in a black and white look highlighted by a neon orange sweater vest. Further, Sofia, a junior, wore a green streetwear inspired look with long braids, a  green cap, olive button down, and white cargo pants. The look was topped off Air Force 1 Shadows from the "First Use" collection. Sage, a freshman, sported a masc fit with a black, long sleeve, mock neck top tucked into a pair of tan, plaid dress pants, cinched with an edgy double-grommet belt. 
Hen Hud had some amazing wardrobes this week and Greta's outfit pulled ahead in this week's Fit of the Week competition. Keep serving great fits!
To submit photos for the Fit of the Week, DM us on Instagram @henhudanchor, or contact any of our photographers: Manuela Carvajal, Jericho Shea, Emily McGrath, and Quinn Muller.
View the Runner-Ups' Outfits!
Leave a Comment
About the Contributor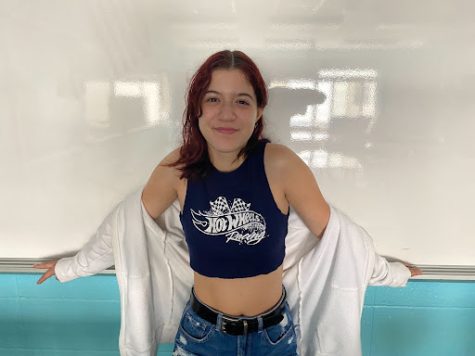 Quinn Muller, Writer
Quinn is a senior at Hen Hud, and this is her first year on The Anchor. She is the Co-Editor in Chief and runs Fit of the Week. In her free time, she...