Fit of the Week: 01/23-01/29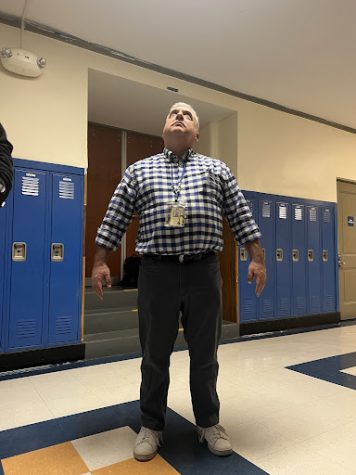 WESTCHESTER, New York – This past week our photographers were on the lookout for outstanding outfits from teachers at Hendrick Hudson. This week's winner was Dr. Barcomb. Runners-up were Mrs. Barthelmes, Mrs. LaFemina and Mrs. Rogulski. 
Dr. Barcomb wore his classic fit this week, a testament to consistent style. The fit features a blue and black gingham plaid patterned button down shirt. This paired nicely with dark gray jeans accentuated by a black belt. Barcomb sported a pair of white traditional tennis shoes. The look is a combination of clean edges and class, epitomizing dadcore vogue, while bearing the signs of a teacher with a visible set of pens in the pocket and a Hen Hud lanyard around the collar.
 Mrs. Barthelmes sported a thin green dress with a white detailed print and blue accents on the sleeves and bottom of the dress. She also wore ruched, thigh high tan boots with an almond toe and chunky heel. Mrs. LaFemina showed off a pink fit with a bright lavender sweater and a chevron pink and gray scarf. On the bottom, she wore matching gray dress pants and glossy black boots. Mrs. Rogulski wore black leggings and a black long sleeve top. The simple outfit was accentuated by a black faux fur vest and dark brown knee high boots with a pointed toe.
Hen Hud had some amazing wardrobes this week, and Dr. Barcomb's outfit pulled ahead in this week's Fit of the Week competition. Keep serving great fits! 
To submit photos for the Fit of the Week, DM us on Instagram, or contact any of our photographers: Maddie Figueroa, Vera Montalbano, Samantha Gatto, and Hayden Bouza. 
View the rest of the Teacher Fits!
Leave a Comment
Donate to The Hendrick Hudson Anchor
Your donation will promote student journalism at Hen Hud.
About the Contributor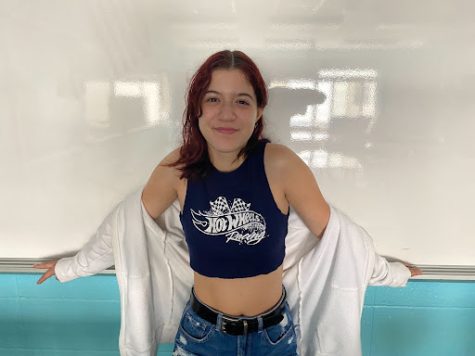 Quinn Muller, Writer
Quinn is a senior at Hen Hud, and this is her first year on The Anchor. She is the Co-Editor in Chief and runs Fit of the Week. In her free time, she...