A Test of Democracy: Insurrection on Capitol Hill
On Wednesday, January 6th, the day Congress was set to certify the results of the 2020 Presidential election, a mob of protestors stormed the United States Capitol, outraged over supposed election fraud.  The Capitol Riots were a shocking attack on our democracy, with thousands of insurgents storming Congress, with a few entering the building itself for the purpose of killing our elected leaders.  This is a timeline of the events leading up to and including the riot.  
At 6 am local time on Wednesday, thousands of Trump supporters gathered to support an attack on our election integrity in a protest the president tweeted about on December 19th: "Big protest in D.C. on January 6th.  Be there, be wild!".  
By 10 am, the Save America Rally began with the President's sons (Eric and Donald Jr), Rudy Giuliani, and finally, President Donald Trump speaking.  The President spoke for roughly an hour ending his speech with a call to march on Capitol hill saying he would walk with them.  
At 1 pm the certification of the election began.  
Roughly at 1:10 pm, the rioters began to clash with the police.
At 1:26, surrounding buildings were evacuated by Capitol security due to safety concerns.  
At 1:33, rioters entered the main building heading to the House and Senate floors.  
At 1:40, the DC mayor issued a 6 pm curfew, and local police asked for reinforcements.  
At 1:46, our representatives on the hill were reportedly beginning to be evacuated by Capitol Security.  
At 2:11, more rioters breached barricades and began to scale the walls of the building.  
At 2:22, Vice President Mike Pence was evacuated by Secret Service.  
At 2:24, the President attacked the Vice President over Twitter for not overturning the election results, something Pence has no authority to do.  
At 2:38, the President tweeted, "Please support our Capitol Police and Law Enforcement. They are truly on the side of our Country. Stay peaceful!" at the rioters.  
At 2:39, rioters broke windows to enter Congress's chambers.  
At 2:44, shots fired were reported.  
At 2:47, rioters were in the chambers.  
At 2:53, Representatives were evacuated from the House floor and given PPE for chemical, biological and radioactive attacks.  
At 3:03, rioters were pictured celebrating on the House floor.  
At 3:13, the President tweeted, "I am asking for everyone at the U.S. Capitol to remain peaceful. No violence! Remember, WE are the Party of Law & Order – respect the Law and our great men and women in Blue. Thank you!"  
At 3:34, a woman was reported in critical condition after being shot in the neck.  She later died and is reported to be an Air Force Vet and a strong supporter of Donald Trump.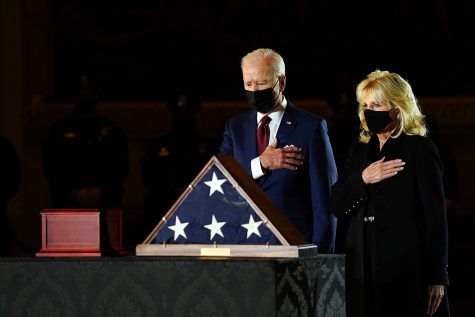 At 3:51, 1,100 members of the DC national guard were mobilized to respond; the Vice President reportedly authorized this, not the President. 
At 4:17, the President releases a video calling the rioters special and telling them to go home in peace.  Twitter subsequently banned him from tweeting for 12 hours which was later updated to permanently.  Facebook has now banned him from Instagram and Facebook indefinitely.  
At 8 pm, Congress comes together to vote to certify the election results and does so officially, making Joe Biden the President-Elect to be sworn in on January 20th.  This came following many floor speeches from hardline Republicans, who have consistently supported Trump,  like Senator Lindsey Graham of South Carolina calling for this all to end and there to be no objections to the election. 
As a result of these riots and the actions taken by President Donald Trump as they happened many called for the 25th Amendment to be invoked, there was a mass resignation of the President's cabinet, and Congressional Democrats officially impeached President Trump for a second time on January 13th. .  If impeachment is signed off on by the Senate, President Donald Trump will be removed from office and prevented from running for President again in 2024.  This appears much more likely than the last attempt of impeachment because of long time supporters of President Trump like Lindsey Graham breaking off ties with President Trump.