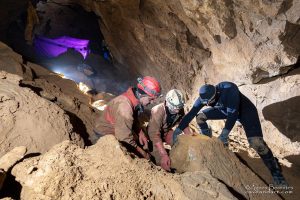 WESTCHESTER, New York (September 21, 2023) – After being trapped for ten days in Morca Cave in southern Turkey's Taurus Mountains, requiring one of the largest and most complicated underground rescues ever organized, Croton-on-Hudson resident Mark Dickey was released from Mersin Sehir Hastanesi hospital in Turkey on September 14 in stable condition. 
"I was near death once, and two more times at high risk. However, I bounced back fast. I've been released from the hospital and the worst feeling is stage 4 phlebitis in both arms from the countless IVs," Dickey told The Anchor. 
The Morca Cave, also referred to as the Morca Sinkhole, located near Turkey's Mediterranean coast, is the 74th deepest cave in the world and the third deepest cave in Turkey with a depth of 1,276 meters, according to Turkey's Speleological Federation.
Dickey was part of a research group embarking on an international expedition to map the 1,276-meter (4,186-feet) deep cave system when he suffered gastrointestinal bleeding and lost consciousness on September 2 over 3,000 feet from the entrance of the cave. Dickey's team sent a distress call to authorities, requesting urgent medical assistance; this proved to be a serious challenge as Dickey was in no condition to trek to the surface.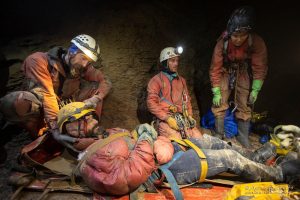 Paramedics, doctors, and experienced cavers from Turkey and across Europe rushed to Dickey's rescue, traveling into the cave system to provide medical care. "Of course, this is not a cave that can be reached on foot. It takes 12 hours for a caver to get down and 16 hours to climb up," said Reception Salci, the head of the search and rescue for Turkey's AFAD disaster management authority. 
It took two days for doctors to reach Dickey where he then received a one gallon blood transfusion to stabilize his condition. Once his condition improved, Dickey was placed on a stretcher and carried out, navigating through the tight rock tunnels for eight days. Rescuers used any means necessary to bring Dickey to the surface as fast as possible, including the use of explosives to expand narrow points of the cave for safe passage. 
Dickey, a prominent figure in the international speleological (cave expert) community, boasts an extensive résumé of cave explorations. He serves as the Executive Director for Caving Academy, a US-based organization dedicated to preparing cavers for exploration. Additionally, he holds the position of national instructor for the National Cave Rescue Commission, and serves as the medical commission secretary of the European Cave Rescue Association (ECRA) medical committee. Dickey is also the Chief of the New Jersey Initial Response Team, a nonprofit search-and-rescue team based in Sussex County. 
As to whether his near death experience will stop him from exploring caves again, he says, "Of course not! Not even a consideration. This was a fluke accident which had nothing to do with caving. I could have been rock climbing, mountain biking, mountaineering, or sitting in my car driving for all I know. The only reason this was noted was because of the location and lack of definitive medical care a phone call away. An ambulance couldn't reach me, and a helicopter couldn't fly here." He adds, "the only way I would stop deep cave exploration (I'd never stop caving entirely) is if the root cause of this medical condition cannot be found and treated which would put me at high risk. Then I would need to consider the welfare of everyone and restrict my activities – in all aspects of life. In light of the circumstances, I plan to go back caving on-schedule. Israel may be next." 
Dickey is currently in Ankara and attended a reception hosted by the U.S. Ambassador to Turkey. He also met with the Turkish cave rescuers, Disaster and Emergency Management Authority of Turkey (AFAD), hospital staff, and Ambassadors from other countries who assisted in the rescue. He will then travel to Hungary to meet with the first-arriving Hungarian and American rescue teams. He will continue to Portugal to attend the European Cave Rescue Association meeting in October and, finally, back to New York for some much needed rest.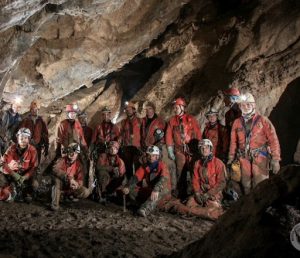 It is Mark Dickey's tenacity, strong will to survive, and great sense of humor that kept him alive, along with the aid of his fiancé, a paramedic who tended to his immediate care before help arrived and the more than 150 international rescuers who rushed to his side. 
"Rest is important, but it's also important to make things happen in life. Finding the balance is critical. Enough rest that you take care of yourself and are in good condition; but not wasting time on rest unnecessarily." Mr. Dickey emailed The Anchor, "and sometimes you need to know when to burn the candle from both ends…. When you are getting hypothermia! Sorry, caver joke!"