Hen Hud Alumni Spotlight: Melody Munitz
Recently, I was given the opportunity to chat with a Hen Hud alumni, Melody Munitz, after she sang a version of Penn State's alma mater that became the vocals for a nationally-aired commercial. 
As she tells the story, it was completely unexpected. Back in March, an email calling for audition submissions of an a cappella version of the Penn State Alma Mater caught her attention. She was in the grips of a post-show cold but she took the time to make a "fast and simple recording on her iPhone standing in my pajamas in her freezing cold attic where [she] could get a semi-quiet recording." A few days after she sent the recording in, New York went into shutdown. Unsurprisingly, the initial commercial was never produced. Months later, on October 24th, she got an email from Penn State Strategic Communications asking permission to air her initial audition recording in a new commercial that would premier on ABC during prime-time of the Penn State/Ohio State Halloween White-Out football game and continue to run throughout the season. 
The honor wasn't expected, but Melody was thrilled to be able to provide the recording for them, saying "I feel so honored to be part of their heartwarming message to our Penn State community during these challenging times."
Melody graduated from Hen Hud three years ago, with the class of 2018. She was the salutatorian of her class, and while at Hen Hud, she was involved in many activities. Both an avid scientist and actress, she remembers fondly her time spent onstage rehearsing with the drama club with Clare Carey, singing in the chorus room with Mrs. Denler, or reading journal papers in Science Research with Dr. Rogers. "There was something exciting at every turn," she said. 
Melody now attends Penn State University, where she is pursuing a double major in BFA Musical Theatre and BA Psychology at the Schreyer Honors College. Although coronavirus has obviously made the learning experience more challenging than usual, she remains undaunted, and credits her professors for making the best of a difficult situation. 
Despite the unusual circumstances, Melody manages to remain busy. She recently wrote and starred in a short radio play called On The Line about voter registration, phone banking, and the realities of living in a polarized political climate. (To see more about On the Line, visit her Facebook page @Melody Munitz for links to the podcast on Spotify, Apple Music and Soundcloud). She's also working as a writer, actor, choreographer, and composer for a new devised theatre piece at Penn State entitled Take A Walk In My Shoes, and is a member of the Penn State improv team. 
As if that's not enough, she is also the student representative for Musical Theatre on the School of Theatre Student Advisory Board, a member of the university scientific journal club, a member of the Penn State Climate Action Grassroots Team, and an Arts Ambassador in the College of Arts and Architecture. She is also the head of the new Penn State Arts for Health Initiative. The initiative focuses on the beneficial power of the arts in promoting well being, and to see more you can follow them on Instagram @arts.for.health to add a dash of art and positivity to your feed! In high school, Melody was an editor of The Anchor, and she's continued down that path as a writer for Phroth, Penn State's satirical news publication.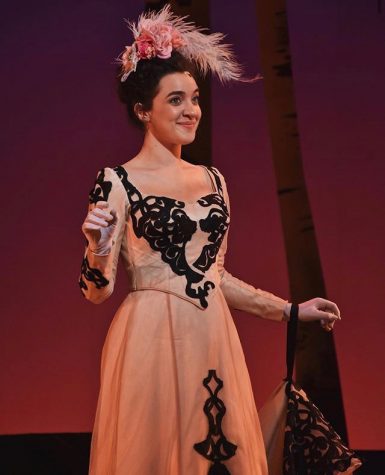 Although her schedule may be packed, it's all worth it for Melody. These activities are preparing her to follow her aspirations of becoming a professional theatre artist or a researcher/writer/professor. She hopes to be able to tell "meaningful and impactful stories" through her art, and to be able to "explore the science at play in theatre and empathy, and share those findings with others". 
One piece of advice she'd give to Hen Hud students? Be yourself. "Those things you feel like hiding? Those things you judge in yourself? Chances are high that those are the best things about you—the things that in time you will come to cherish and be celebrated for. And it can be a stroll, not a sprint to acknowledge and express them. You get to live on your own timeline. We are always learning, and growing, and changing. And everyone else is, too—so extend kindness to yourself and others whenever you can (which [she] think[s] just so happens to be always)."
Congratulations Melody! All of Hen Hud is proud of you and can't wait to see what other great things you'll accomplish.