"All Girls to the Front!" – Riot Grrrl and the Feminist Movement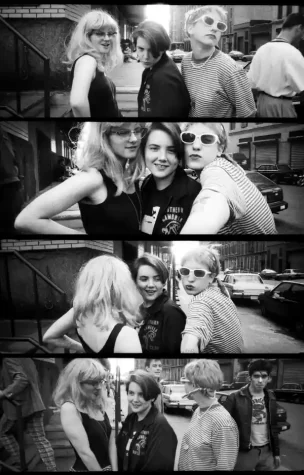 "All Girls to the Front!" echoed throughout underground punk shows when bands like Bikini Kill and Bratmobile took the stage. This call to action defined the Riot Grrrl movement, a third-wave feminist collective in the underground punk scene. The community fought against misogyny and marginalization women suffered in counterculture spaces, but also against the gender norms in a conservative society. This "girl riot" sought to find validation in a society that invalidated female experiences. Women found community with each other by bonding over the violence and oppression they suffered. Even the spelling of "grrrl" displays this anger, twisting the femininity of "girl" into a growl and snarl. Rockers channeled their rage into a raw and emotional sound that emulated the counterculture agenda. 
The movement picked up steam with the distribution of "zines." Zines were DIY, small-print "fanzines" created in the punk scene to discuss and comment on the counterculture aesthetic. Girls started making their own zines to talk about problems and experiences specific to women. They encouraged girls to set up their own Riot Grrrl chapters and stated their reasons behind action. Kathrine Hanna writes in Bikini Kill Issue 2, "I believe with my wholeheartmindbody that girls constitute a revolutionary soul force that can, and will change the world for real," in a series of statements that began knows as the Riot Grrrl Manifesto. These zines began early conversations about rape, violence, eating disorders and even racism that built a community around fighting these societal problems. Bands were then formed around giving girls another means to sing about these very topics.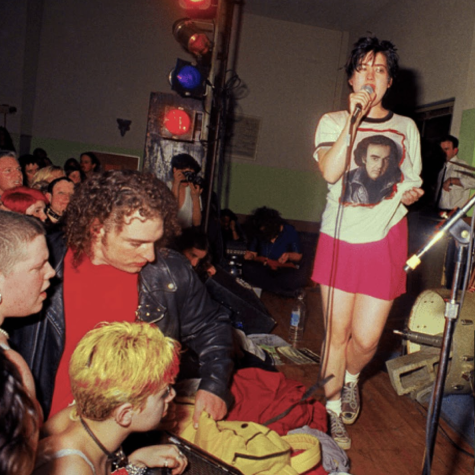 Although all punk, these bands didn't sound the same: Bikini Kill and Le Tigre utilized a dance-rock sound while L7 and Babes in Toyland focused on heavy hard-metal sounds. Instead of focusing on an inauthentic "girl power" message, women like Kathleen Hanna, Corin Tucker, and Allison Wolfe used straightforward, sometimes satirical lyrics to critique societal norms. In the song "Terrorist" by Heavens to Betsy, the opening line mentions the fear of violence women live in: "you follow me on the … street/you make me feel like a piece of meat." The song then shifts to represent the fed-up attitude of being treated inferior: "I'm not your prey I'll make you die." Bikini Kill reminds the listener of the unfair beauty standards girls are held to and how they are "taught to be hungry" and how "women are well acquainted with thirst." Some bands took a political approach with songs like "George Bush is a Pig". The movement's raw unpolishedness made it's messages feel authentic; hearing girls talk would manipulation, eating disorders, and other society-caused "taboo" subjects feels validating.
The movement was short lived, but it was the catalyst for a feminist music movement. With the onset of the '90s, rockers like PJ Harvey, Fiona Apple, Veruca Salt, and Alanis Morissette voiced their anger and experiences through their poetic lyrics. Riot Grrrl made a space in the music industry, but also society, for women to express themselves in ways that made sense to them. 
Recommended Songs: 
I'd Rather Eat Glass by Excuse 17
Deceptacon by Le Tigre
Pretend We're Dead by L7
Are You a Lady? by Bratmobile
Rebel Girl by Bikini Kill
Complicated by Heavens to Betsy
Pretty on the Inside by Hole
Bruise Violet by Babes in Toyland
I Wanna Be Your Joey Ramone by Sleater-Kinney
Lorna by 7 Year Bitch
Leave a Comment
About the Contributor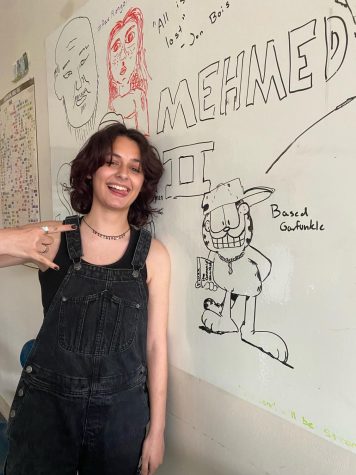 Kacie Burns, Arts & Entertainment Editor
Kacie is a Senior at Hen Hud and this is her fourth year on The Anchor. For the paper, she does the layout, artwork, and writes. This year, she is the...