Fit of the Week: 02/06-02/12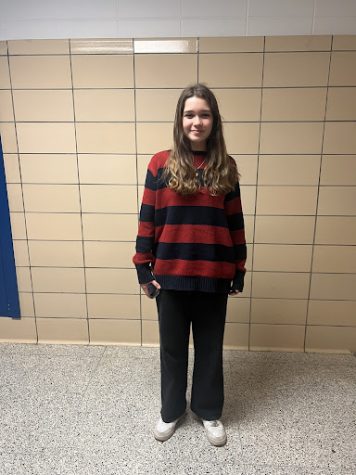 WESTCHESTER, New York – This past week our photographers were on the lookout for outstanding outfits from students at Hendrick Hudson. This week's winner was Valentina Pascale. Runners-up were Jeffrey Panama, Omar Saleh, and Aaryan Sharma. 
Valentina sported a baggy-styled outfit, representative of casual streetwear. On the top, she sported a black and red striped sweater, hinting at some 90s flair. The oversized silhouette was carried throughout, seen with her wide-fit black jeans and Air Force 1s. The muted, dark colors paired nicely with a grungy winter fit. 
 Jeffrey wore crisp, light cream-colored khakis covering a pair of Air Force 1s. His black belt matched a short-sleeve black dress tee with black and white striped hems on the sleeves and collar. Omar wore a gray oversized GAP crewneck with navy lettering to match a short scarf and beanie. The light gray of his sweater was contrasted with the dark gray of his sweats, and more so with the bright white of a pair of chunky sneakers. This week, Aaryan wore a plain fit with a conversation piece. Atop gray slacks and a light blue tee, was a bright blue letterman jacket from Aelfric Eden with classic varsity lettering and red patches on the sleeves and back.
Hen Hud had some amazing wardrobes this week, and Valentina's outfit pulled ahead in this week's Fit of the Week competition. Keep serving great fits! 
---
To submit photos for the Fit of the Week, DM us on Instagram, or contact any of our photographers: Maddie Figueroa, Vera Montalbano, Samantha Gatto, Hayden Bouza, and Pasqualino Carbone. 
Leave a Comment
Donate to The Hendrick Hudson Anchor
Your donation will promote student journalism at Hen Hud.
About the Contributor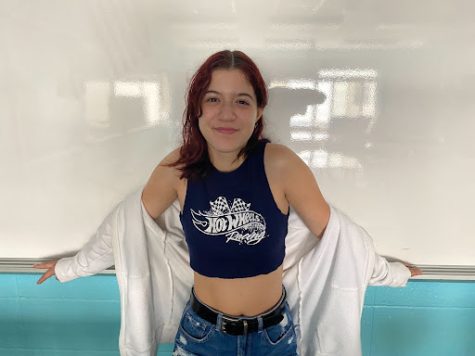 Quinn Muller, Writer
Quinn is a senior at Hen Hud, and this is her first year on The Anchor. She is the Co-Editor in Chief and runs Fit of the Week. In her free time, she...