Fit of the Week: 01/03-01/08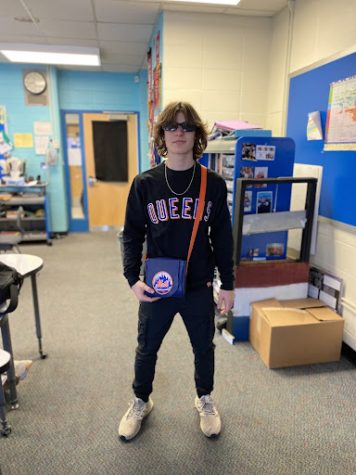 WESTCHESTER, New York – This past week our photographers were on the lookout for outstanding outfits at Hendrick Hudson. This week's winner was Rexx Kohan in a record voter turnout. Runners-up were Joe Rocha, Cameron Haynes, Saria Noveno, and a group fit with John O'Connor, Liam Moore and Michael Gagliardi. 
Rexx stood out this week with his Mets inspired look. The fit consisted of a black long sleeved top reading QUEENS in classic Mets colors, royal blue and bright orange. On the bottom, he wore a pair of black cargo pants with a subtle orange and blue tab below the waist. The best part of the look has to be how Rexx accessorized it. A simple chain was added as well as a pair of blocky black sunglasses. Some contrast was added with a pair of white Adidas Originals XPLRs.  The highlight accessory is Rexx's bag. Crafted by his older brother Ben, the bag has a bright orange strap, and is composed of deep blue leather with a Mets patch front and center.
 Group and pair fits are now accepted on a weekly basis! One such group was Liam, John and Michael. The three matched in dark sweats and shirt jackets in neutral tones. Joe sported a similar jacket to John, worn over a forest green graphic tee, and paired with straight leg, light wash jeans and New Balance tennis shoes. Cameron was also on the neutrals trend with a patterned tan and white oversized sweater vest and  matching cream colored cargo pants. Hints of white were added with a crisp button down shirt and classic Chuck Taylors. Saria showed off a black and white look with a glossy vinyl cropped black jacket over a cropped white tee. She also wore semi-flared black jeans with wide cuts as well as a pair of bedazzled chunky white sneakers.. 
Hen Hud had some amazing wardrobes this week, and Rexx's outfit pulled ahead in this week's Fit of the Week competition. Keep serving great fits! 
To submit photos for the Fit of the Week, DM us on Instagram, or contact any of our photographers: Maddie Figueroa, Vera Montalbano, Samantha Gatto, and Hayden Bouza. 
Leave a Comment
About the Contributor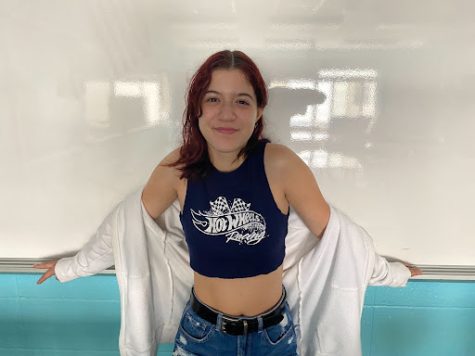 Quinn Muller, Writer
Quinn is a senior at Hen Hud, and this is her first year on The Anchor. She is the Co-Editor in Chief and runs Fit of the Week. In her free time, she...