Teacher Feature: Mrs. Maye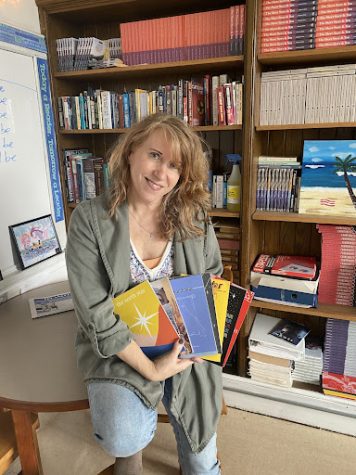 WESTCHESTER, New York – Mrs. Maye is the winner of this year's National Honor Society Most Influential Educator award for her inspiration and positive impact on students. She will accept this award on December 21st at the National Honor Society induction ceremony at 6:30 pm at Hendrick Hudson High School.
Many students at Hen Hud know Mrs. Maye as the AP Lang, English 11, and Creative Writing teacher. However, few know about her unique background and the extensive work she does to bring the joy of learning about literature and language to her students. Through teaching her classes and working as the advisor for both the Reading Club and Hen Hud Lit Mag, she inspires students to learn and grow as writers. In her free time she enjoys hiking, yoga, and, obviously, reading. Her favorite book is The Goldfinch by Donna Tartt.
Mrs. Maye grew up internationally. Her mother worked as a teacher on military bases in Germany, Italy, and Portugal. Moving around a lot was difficult and she attended four different high schools around the world. Through these experiences, she learned multiple languages in addition to English, and retained fluency in Italian. After high school, she studied English literature at Smith College before going to school for law at St. John's University School of Law in Queens. 
While many of her students know Mrs. Maye was a lawyer, they might be surprised to learn that she was both a corporate lawyer and entertainment lawyer, among other professions. Throughout college she worked as a waitress, and then moved to New York City to work in theatre. After briefly working as an actress, Mrs. Maye then became an assistant talent agent, where she learned secrets about the media industry that would later aid in her career as an entertainment lawyer. Becoming disillusioned with the "seedy underbelly" of the media field, she left that career to become a real estate agent. As a New York City realtor, she was able to get an inside view into Manhattan's beautiful modern and pre-war buildings. Although Mrs. Maye says she does not regret working in any of these fields and that she learned something of value from each one, it is through her legal profession that she gained the most useful life skills, including an attention to detail, logical thinking, and advanced writing techniques that would translate smoothly into teaching. 
Although Mrs. Maye admits there were exciting aspects to her legal career– for instance, she represented famous clients like model Heidi Klum and director Joe Berlinger, and she got to meet members of the band Metallica– she states that she felt unfulfilled as an attorney and wanted to work in another career. For her, a career in education was ultimately more inspiring and meaningful, and she felt that her work in law was mostly just making the rich even richer. "When the pain of the present begins to exceed the fear of the future, change is effortless," said Mrs. Maye. 
In 2006, Mrs. Maye came to Hen Hud and fulfilled her passion to teach English language and literature. She has taught multiple classes, including AP Language and Composition and English 11, Creative Writing, Journalism, English 9 and English 9 Honors. In addition, she has served as an advisor for three school clubs, namely the Newspaper Club (2009 – 2015), the Literary Magazine Club(2015 – present), and the Reading Club (est. 2022). Teaching English was a natural fit, given her bachelor's degree in English, but Mrs. Maye also said in her interview that her work on extracurricular clubs is a natural extension of teaching to her students: The Anchor and The North Star each provide another way for students to express themselves through written word, and the Reading Club encourages students to foster a love of literature.
Mrs. Maye plans to keep teaching at Hen Hud and helping students become the best readers and writers they can be for many years to come.