Hen Hud Alumna Speaks at HOSA Gathering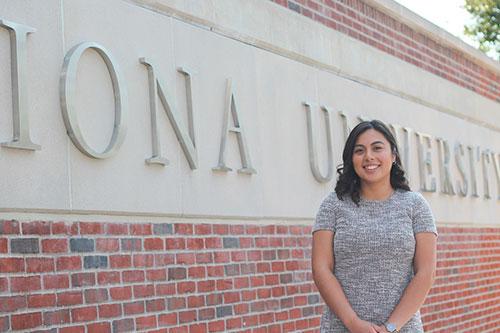 WESTCHESTER, New York – 2017 Hen Hud Biomedical class alumna Danielle Zalamea spoke virtually at Health Occupation Students of America's (HOSA)'s December 14th meeting.
Danielle gave helpful tips for the Biomed students who attended. "Learn about yourself, learn to manage time, push through with your goals, utilize all available resources, and most of all, enjoy your time in high school." Up to this day, she reminisces on much of her high school days and speaks fondly of her past teachers, including Dr. Hall, the advisor for HOSA at Hen Hud.
Danielle shared some insights as to what it was like to major in Biology. Gaining knowledge and hands-on skills in organ dissections were among her favorites. She will be graduating with her Master's in Business Administration majoring in Healthcare Administration in May of 2023. After graduating high school, Danielle has accomplished much and explored many different career options within her major.
Now she is fortunate enough to be closer to home, as she was assigned to Westchester County as a liaison and admissions counselor for Iona University's science programs, which allows her to visit Hen Hud more often. She plans to pursue a Doctorate Degree in Healthcare Administration and envisions herself as a Hospital Administrator in the future.
When I asked her what experiences influenced her the most in achieving her goals in life, she smiled and responded, "Hen Hud."
HOSA is an organization led by students worldwide. HOSA's mission statement is to allow future health professionals to excel as leaders in the health community through education, partnership, and experience. Aside from enhancing the delivery of quality health care to all people, HOSA also promotes career opportunities in the health industry. With the unique leadership development program and recognition, HOSA is only exclusive for students enrolled in health science education and biomedical science programs. HenHud's HOSA program is spearheaded by Dr. Jeanine Hall, head of the Biomedical program at Hendrick Hudson High School.
Correction Notice: An earlier version of this story erroneously refers to Dr. Jeanine Hall as 'Mrs.'