Fit of the Week: 11/21-11/27
Over the past week, our photographers have been on the lookout for outstanding paired outfits at Hendrick Hudson. This week's winner was Ada Millar. Runners-up were Jadon Seenjan and Gabby O'Mara.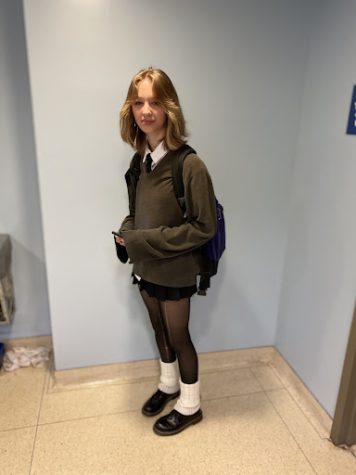 Ada veered from her typical ensemble of style– letterman jackets and jeans to a classy yet cozy fit. The fit dove into the popular dark academia style, which glamorizes the bookish aesthetic. Contributing to this glamorized bookworm aura were neutral tones in a preppy presentation. As a base, Ada wore a crisp, untucked white button-down dress shirt complimented by a black tie. Her shirt overlapped a sharp black pleated mini skirt over intentionally worn-out nylons with visible runs.  Further down, Ada added a pair of cable knit cream leg warmers covering low-heeled black oxfords. Finally, the look was topped off with an almost brown, dark olive sweater with flared sleeves and a V-neck, showing off the stylish base of the fit.
 Jadon is pictured in a neutral brown and cream fit. On top, he wore a long-sleeved black shirt underneath a brown crew neck with textured sleeves and collar. On the bottom,  he wore long, baggy cream jeans with basic cream white tennis shoes. Gabby was seen in a basic top and light acid-wash jeans. She wore black crew socks and Nike Blazer Lows in a Lemon Wash. Her outfit stood out with a knit letterman jacket with black cuffs, white sleeves, and a royal blue body highlighted with black and red patched reading "GO" in varsity lettering. 
Hen Hud had some amazing wardrobes this week, and Ada's outfit pulled ahead in this week's Fit of the Week competition. Keep serving great fits!
Runner-Up Outfits
To submit photos for the Fit of the Week, DM us on Instagram, or contact any of our photographers: Maddie Figueroa, Jericho Shea, and Emily McGrath.
Leave a Comment
About the Contributor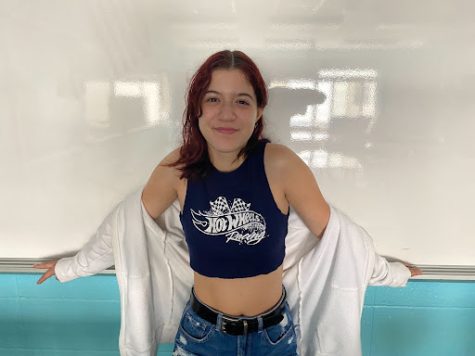 Quinn Muller, Writer
Quinn is a senior at Hen Hud, and this is her first year on The Anchor. She is the Co-Editor in Chief and runs Fit of the Week. In her free time, she...