Albums to Celebrate and Wallow in Winter
Debut by Björk
Icelandic singer, Björk, released her first solo album in 1993. It's an eclectic mix of pop and her wild voice makes it so entrancing. There's no one aesthetic the album applies to– it feels a little wintery ("Venus As a Boy," "Crying") but also has club, dance songs ("There's More To Life Than This," "Violently Happy"). It has crisp instruments that sound like ice and snowflakes. Although Debut isn't Björk's best album, it sets a solid stage for her more experimental works later on.
Low-Life by New Order
Low-Life is New Order's third studio album and marks an important shift in their discography. It abandoned the post-punk grunge of their previous works for a synth-rock masterpiece of club tunes. Although a dance record, it still maintains a level of angst and darkness to it, seen on tracks like "Elegia" (which was featured in "Stranger Things") and "Sunrise." My personal favorite, "The Perfect Kiss," details a night out with a destructive friend and a journey toward the perfect kiss of death. There's a longer 8-minute version on the Substance album released in 1987. Despite the morbid-sounding lyrics, the instrumental synths, bass, and drums carry a club beat throughout the whole album that makes you want to get up and dance. 
Kid A by Radiohead
Kid A is like an alien abduction; it's weird, distorted, and feels self-destructive. Expecting another rock album like OK Computer, Kid A surprised the public with an electronic collage of melodies that further broadened the definition of rock. The opening track, "Everything In Its Right Place," sets the mood for the album: sad robotic weirdness. "How To Disappear Completely" sounds like an out-of-body experience, one of solitude and ghostliness while the lyrics float about through a string arrangement. The album carries themes of isolation, derealization, and surreal moments in life.
Stratosphere by Duster
Released in the late 90s, Stratosphere became a staple in the emerging slowcore genre. Characterized by minimal lyrics and downbeat tempos, slowcore became immortalized in Stratosphere as it blends fuzzy guitars with an overall nostalgic feeling. "Inside Out" is the most popular track and rightfully so; it envelops the listener with a sort of warmth to wallow in uncertainty with the singer. "Constellations" feels exactly like laying to look at the stars on a cool summer night. Tracks like "Echo, Bravo" and "Earth Moon Transit" utilize distortions and feedback in a similar way to shoegaze bands do.
Grace by Jeff Buckley
Grace is a moody compilation of love, anger, and beautiful lyrics that capture the angst and talent of the 90s. Buckley is most known for his cover of Leonard Cohen's "Hallelujah" with his soft vocals backed by a bass and guitar. His voice turns heavier and louder in "Eternal Life," "So Real," and "Grace." By far, the most beautiful song is "Lover, You Should've Come Over," a ballad of regret and longing for an unforgettable love, singing "She is the tear that hangs inside my soul forever" and repeating "It's never over." It's somber but graceful– feeling like a candle flickering in the dark on a rainy day. 
A Very Special Christmas (Complied by Jimmy Iovine)
A Very Special Christmas was created in 1987 as a charity album to raise money for the Special Olympics. At its release, it helped raise more than $130 million for the Special Olympics. Organized by Jimmy Lovine and with help from A&M Records, they compiled high-profile bands and artists who performed covers of classic Christmas songs, and in turn also became classics. My two favorites are "Santa Baby" by Madonna and "Christmas (Baby Please Come Home)." They both remind me of my parents Christmas playlist and getting dropped-off at elementary school in the winter. But there's something for everyone, with artists ranging from Run-DMC to Whitney Houston to Bon Jovi.
Leave a Comment
Donate to The Hendrick Hudson Anchor
Your donation will promote student journalism at Hen Hud.
About the Contributor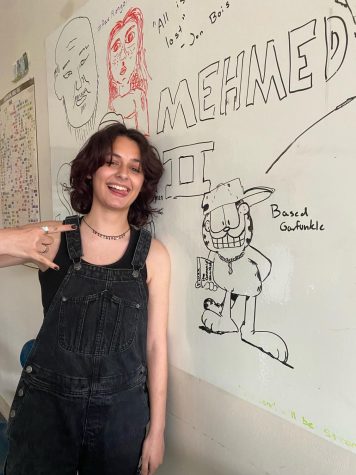 Kacie Burns, Arts & Entertainment Editor
Kacie is a Senior at Hen Hud and this is her fourth year on The Anchor. For the paper, she does the layout, artwork, and writes. This year, she is the...