Fit of the Week: 10/17-10/23
Over the past week, our photographers have been on the lookout for outstanding outfits at Hendrick Hudson. This week's winner was Ember Bates, with runners-up Sage Faulkner, Lizzie Apienti, and Isabella Veloz.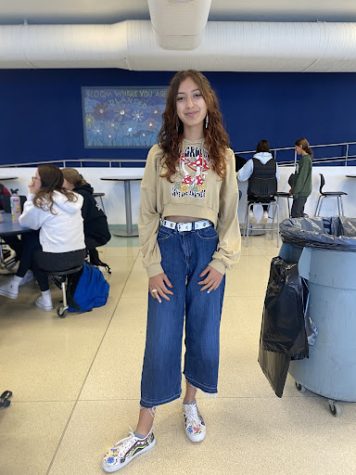 Ember presented a lively look within her outfit, displayed by the vibrant colors and prints interspersed throughout. Her top and shoes expressed chaotic patterns, while her classic blue jeans toned it down. Her white belt matched nicely with the white of her sneakers, giving the outfit a sense of cohesion. Ember upheld the fact that something as simple as jeans and a top can be made unique by accessorizing in a fun way. The bright tones in her outfit were very nostalgic to the indie aesthetic and a summery style. Even seemingly meaningless details, from her earrings to the frayed hem on her jeans, added a touch of playfulness to her outfit.
This week's vote highlighted our underclassmen. Sage is pictured in an edgy  femme look with a flowy pink skirt, black and pink graphic tee, black fishnets and worn combat boots. Further, Lizzie repped a summer-fall style crossover in a bright teal, cropped jacket over a colorful striped top, paired with black jeans and a belt. Isabella sported a bold look with a patterned green top and yellow-green dress pants, made more earthy with brown Converse-esque sneakers.
Hen Hud had some amazing wardrobes this week and Ember's outfit pulled ahead in this week's Fit of the Week competition. Keep serving great fits!
To submit photos for the Fit of the Week, DM us on Instagram @henhudanchor, or contact any of our photographers: Manuela Carvajal, Jericho Shea, Emily McGrath, and Quinn Muller.
Check out the runner-up's outfits!
Leave a Comment
Donate to The Hendrick Hudson Anchor
Your donation will promote student journalism at Hen Hud.
About the Contributor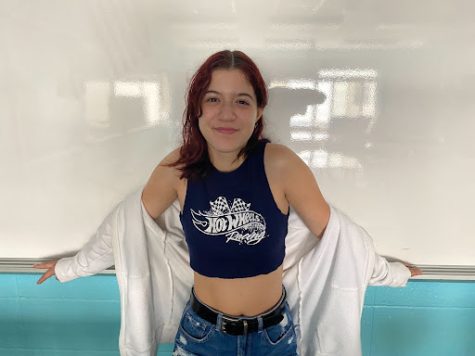 Quinn Muller, Writer
Quinn is a senior at Hen Hud, and this is her first year on The Anchor. She is the Co-Editor in Chief and runs Fit of the Week. In her free time, she...