Ye.
No one can doubt that the artist formerly known as Kanye has made a name for himself–figuratively and literally. Whether it's through political controversy or his revolutionary repertoire, the man has the spotlight and what he does with it has split public opinion. We asked local Kanye enthusiast and Hen Hud history teacher, Mr. Zink, for some background on this icon of a man.
Currently swept up in various scandals, Kanye's name has been running rampant through the news. The Flashing Lights rapper has made Twitter his vessel for devolution. Ye is under public scrutiny over various antisemitic comments and claims of racism on his verified account— which, along with his Instagram, has been locked. 
The fashion icon also turned heads most recently with a new clothing collection proclaiming "WHITE LIVES MATTER," presented at Paris Fashion Week. Further, Kanye falsely preached that George Floyd, arguably the face of the Black Lives Matter movement, died as a result of a Fentanyl overdose. West cited right-wing personality Candace Owens concerning Floyd's tragic death to reinforce the claim.
Although his name has been popping up more frequently, with Newsweek citing six controversial moments just in the past two weeks, this isn't the first time Ye has gone viral over similar behavior. 
Commonly known is the image, circa 2009, depicting Kanye's iconic upstaging of Taylor Swift at the VMAs. The Life of Pablo rapper interrupted Swift's acceptance speech, to advocate for Beyonce's victory for Best Female Video. This moment would spark a decades-long beef between the two heads of their respective genres. In a hot take on the moment, Zink argued that although he doesn't condone Kanye's actions, Ye is known for crossing lines, and it's part of what has made him so popular. Fans likely viewed the moment as another one of the star's typical shenanigans, constantly pushing the envelope in one way or another. It is safe to say that Ye's unapologetic attitude has gotten him far, but it may soon be the catalyst to his downfall.
 Almost as well known is West's unscripted interjection during a live broadcast concerning Hurricane Katrina, in which he stated, "George Bush doesn't care about black people." Zink believes Kanye "was trying to strike a cord. He wanted to force people to recognize racial inequality in the US." 
Ye's social popularity began to decline further after stating that slavery was a choice during an interview with TMZ in 2018, which Zink described as "horrific on every level." Around the same time, Kanye gained attention for endorsing Donald Trump with a tweet of him in a symbolic red cap.
Lesser known controversies include defending R. Kelly in 2019, claiming Bill Cosby's innocence in 2016, and constant comparison to Jesus while referring to himself as "Yeezus." The list goes on, and wouldn't be complete without an assessment of his relationship with the presidency. The phrase "Kanye 2020" began circulating after Donald Trump, a close acquaintance to West, was seen with the Yeezy designer. Similar to common opinion, Zink "didn't think he would have a chance" in terms of running for president.
Response to the recent spiral has resulted in terminated brand deals with Balenciaga and Adidas. 
 Zink claims Kanye's actions are the reason he "could no longer support [Kanye's] public opinion." Many fans are claiming Ye's actions to be a result of his deteriorating mental health. This may be exacerbated by the death of his mother, Donda, as mentioned in his most recent eponymous album.
Many arguments from Kanye fans recently have suggested separating the art from the artist.  
Taking his music into account, Kanye is a revolutionary as opposed to an extremist. The man was and is a trailblazer, especially when it comes to beats and sampling. He could easily be described as a pioneer for sound-biting, including samples from other revolutionary Black artists like Otis Redding and Ray Charles. His goal was to bring rap music back to its roots and highlight the works of fellow African American artists. Additionally, he uses his clout to the advantage of the industry, aiding artists like Kid Cudi, Big Sean, Nicki Minaj, and Fetty Wap.
Kanye has always brought attention to the BIPOC community, but recently, the attention is not what it should be. Many people believe that celebrities are obliged to give back to their community and use their platform for good, but Kanye is poorly representing his community with the recent comments he has made. Old Kanye, according to Zink, used to "shine the spotlight on injustices and socioeconomic disturbances" that needed to be highlighted. Now, he may be hurting the community more than he is helping.
Leave a Comment
About the Contributor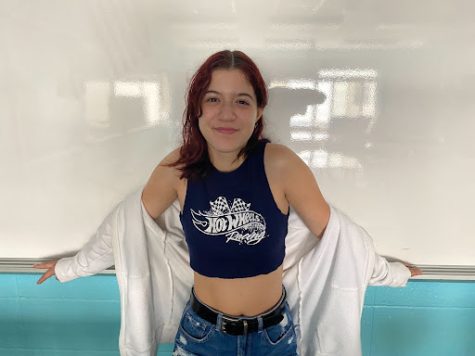 Quinn Muller, Writer
Quinn is a senior at Hen Hud, and this is her first year on The Anchor. She is the Co-Editor in Chief and runs Fit of the Week. In her free time, she...