Fit of the Week: October 3rd – October 9th
Over the past week, our photographers have been on the lookout for outstanding outfits at Hendrick Hudson. This week's winner was Hayden Bouza, with runners-up Sofia Suflita, Demetrius Wells, Joe Rocha, and Juan Espinoza.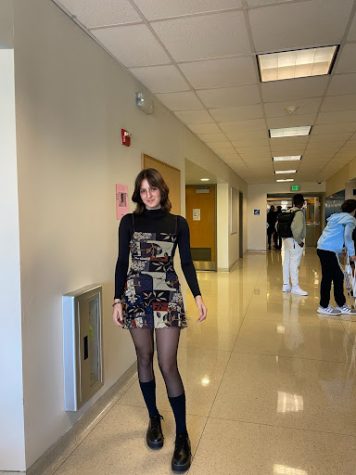 Hayden's elegant look stood out this week—a great representation of her classically romantic style. She expertly layered black into the fit, highlighting a modestly colored bodycon dress. Adding to the aesthetic, Hayden's Dr. Martens Oxfords paired with mid calf socks and a pair of nylons contribute to a high end autumn look. Her black ribbed mock neck top is reflected in the opaque boldness of her socks, playing up the layering of the fit. The lettuce-edge hem on Hayden's dress adds a playful break to a classy look. The muted tones add enough spice to the color scheme, while still maintaining the dark minimalist vibe. 
Anyone who knows Hayden will likely shout out to her style– as did our photographers, who considered two of her outfits this week for our poll. The other outfit, similar to the look of Disney's Anastasia, included a tan Gatsby cap, a cream canvas vest topped over a loose sheer button down, black flares, and of course, her Oxfords.
This week's vote highlighted our junior class. Joe Rocha is pictured in a gray tank and a tan light jacket matched with low top moccasins and black sweats. Further, Sofia Suflita looked very confident in her big top, big bottoms combo in all black, with a pop of her white Air Force 1s. Demetrius Wells sported a classic striped Yankee fitted, a burgundy crewneck, and surprisingly enough, a pair of Birkenstocks. Juan Espinoza, a freshman, was also featured, giving us a taste of a matching set with a tropical pattern, clean Nike Blazers and an assortment of bracelets on each arm.
Hen Hud had some amazing wardrobes this week and Hayden's outfit pulled ahead in our Fit of the Week competition. Keep serving great fits!
To submit photos for the Fit of the Week DM us on Instagram @henhudanchor or contact any of our photographers: Manuela Carvajal, Jericho Shea, and Emily McGrath.
See the Runner-Up's Outfits!
Leave a Comment
About the Contributors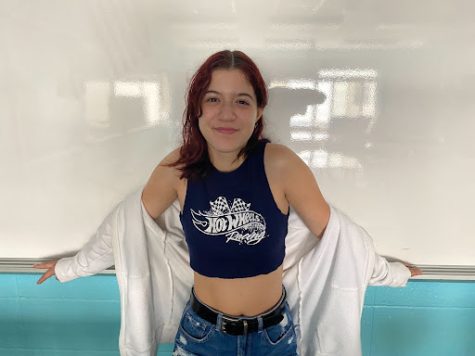 Quinn Muller, Writer
Quinn is a senior at Hen Hud, and this is her first year on The Anchor. She is the Co-Editor in Chief and runs Fit of the Week. In her free time, she...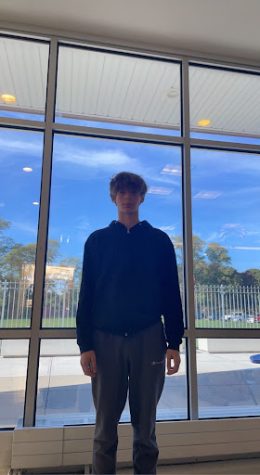 Jericho Shea, Photographer
Jericho is a sophomore at Hen Hud, and this is his first year on The Anchor. For the paper, he will be the designated photographer. Other than the Anchor,...