Meet the Cast of Our Spring Musical: The Addams Family
     After two years of troubling theater experiences throughout the world, Hendrick Hudson High School's theater department has chosen to perform The Addams Family: The Musical for this year's Spring musical. Directed by Clare Carey and Erica Denler, students are ecstatic to be back on stage for this hilariously dark and spooky musical. The plot follows the story of the original Addams family characters: Gomez, Morticia, Lurch, Uncle Fester, Wednesday, Pugsley, and Grandma. In the musical, the daughter, Wednesday, falls in love with a boy named Lucas and attempts to be 'normal' to fit in with his family. If you are familiar with the family, you know that the Addams are the complete opposite of normal. The cast is filled with strong leads singing about love, troubles, and even death! The ensemble is made up of Addams family ghostly ancestors, including a conquistador, saloon girl, caveman, ballerina, and more! The entire cast has been working extremely hard to learn all of their music, lines, and grand dance numbers that will blow the audience away.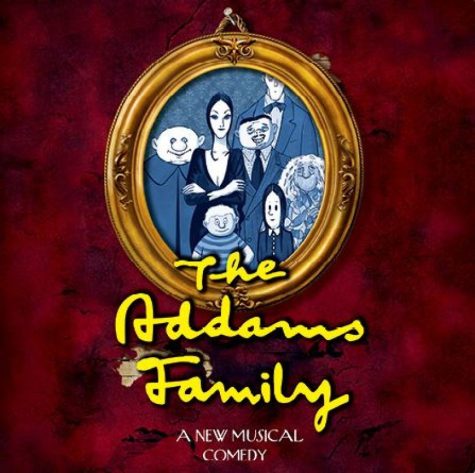 Now, it's time to get to know the cast! 
Questions:
If you could describe your character in three words, what would they be?

What is your favorite song/number in the show and why?

Why do you think people should buy tickets to see the show?
Gomez Addams – Daniel Saleem (senior)
"Suave, romantic, and family-oriented."

"'Happy and Sad' sung by Gomez Addams. This song details the many bittersweet moments of life, including the upcoming event of graduation for our seniors. We are happy to grow but sad to leave behind what we've known!"

"Even without the impacts on theater from the pandemic, the absence of a stage within our high school has deprived us from reaching our full potential as actors, instrumentalists, and musicians! This is a chance for our community to see what they've been missing out on for the past three years and enjoy the story of family, new beginning, and of course love!"
Morticia Addams – Sarah Mason (senior)
"Matriarchal, true, and bewitching."

"My favorite song is definitely 'Just Around the Corner'. The song is hilarious and I absolutely love the big dance number, especially the kickline at the end."

"I think people should come see the show because all of the leads are super talented. I wouldn't want to work with any other group of students, they're all breathtakingly amazing!"
Wednesday Addams – Mia O'Malley (sophomore)
"Cold, uninviting, and distant."

"My favorite song is 'One Normal Night' because it's an earworm."

"We worked really hard and it is the opening to the new auditorium. It's also a good way to support Hen Hud after COVID."
Lurch – Bixby Piccolo-Hill (junior)
"Tall, pale, and handsome"

"My favorite number is 'When You're an Addams' because the dance is really fun."
"People should come see the show to see Devin Klimek bald."
Pugsley Addams – Nava Minichino (freshman)
"The best Addams"

"My favorite number is 'Pulled' because of the bird that Wednesday kills in it."
"People should come see the show because Mia O'Malley is in it."
Grandma – Thomas Little (sophomore)
"Unhinged, weird, and funny"

"My favorite number is 'Crazier than You' because it's really cute."

"People should watch the show because it's a crazy lit movie."
Lucas Beineke – Anthony Mills (junior)
"Loving, reasonable, and Ohioan"

"My favorite song throughout the show would have to be "When You're an Addams" because it captures the Addams family as a whole and allows for the audience to be introduced to the characters."

"People need to buy tickets not only to support the music program and HenHud, but to support their friends and family who have worked so hard to put this show together, and obviously because it's going to be a great show all around."
Alice Beineke – Juilanna Picarello (senior)
"Poetic, sweet, and the slightest bit crazy."

"My favorite number is 'When You're an Addams' because it's the big opening number that gets people engaged and want to see more."

"Like Wednesday said, we worked really hard. We have gone over numbers a million times and have put a lot of effort into this show. It deserves to be seen by a lot of people and it's my senior year, so people better come see it."
Mal Beineke – Nicholas McKeon (sophomore)
Uncle Fester – Devin Klimek (Junior)
Addams Family Ensemble: Angelina Conticello (freshman), Sophia Del Monte (junior), Alec Elkin (freshman), David Feirman (junior), Myles Merchant (sophomore), Sarah Mickelsen (junior), Alexandra Pappas (freshman), Sophia Periera (8th grade), Saturn Rivera (sophomore), Morgan Savva (7th grade), Ava Schembari (8th grade), Addison Valentino (7th grade)