Song Machine, Season 1 Review: Strange Songs for Strange Timez
Song Machine, Season One, has something for everyone. In their recent release, the UK virtual band/collective Gorillaz explores complex themes through electronic music, hip-hop collaborations, pop, rock, and sounds from around the world. Although released separately throughout the year, the tracks manage to flow together well, breaking the boundaries of pop music and making for a playful yet socially relevant listen. 
The seventh studio album from Gorillaz, Song Machine, Season One: Strange Timez, was released over a series of eight episodes with several songs each. The final compiled material sounds completely new and different from anything else that has come before it, but follows the band's reputation of being genre-benders and frontier-forgers in the music and arts industry.  
Gorillaz was formed in 2000, primarily as a musical outlet for lead member Damon Albarn, where he could explore new genres and styles outside of his UK rock band Blur. He teamed up with comic artist Jamie Hewlett to create four animated fictional "members" named 2-D (vocals, keyboard), Murdoc Niccals (bassist), Noodle (lead guitar, vocals), and Russel Hobbs (percussion). Gorillaz eventually morphed into a virtual collective of musicians across the globe, collaborating on albums that embrace every genre from hip-hop to electronic to indie rock. Throughout their 20 years of existence, Gorillaz has recorded tracks with musicians ranging from Lou Reed to Andre 3000 to Elton John to De La Soul.
Gorillaz's unique release format allowed for spontaneous releases throughout 2020, and Albarn spoke to BBC Radio about their plan and mindset surrounding the concept, stating that "You just keep going until you run out of ideas." In a press release, fictional member Russel Hobbs asserted: "[the] world is moving faster than a supercharged particle, so we've gotta stay ready to drop. We don't even know who's stepping through the studio next. Song Machine feeds on the unknown, runs on pure chaos." Gorillaz wanted to approach these releases as singles, responding to moments as they happen without the concepts and constraints of an album. 
Song Machine is the mus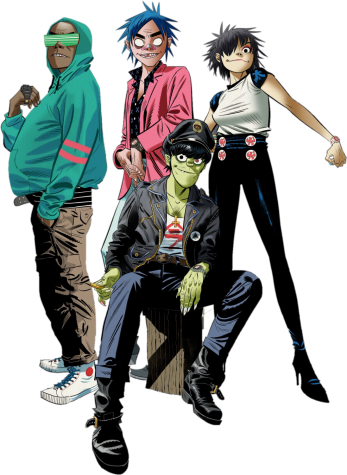 ic of the present; it encapsulates the hectic nature of our world starting with the title track, released in episode six, which ponders our current world state from Covid-19 ("surgical glove world") to global warming ("I'm twitching in the grimy heat, I think I might be spinning") to political climates ("strange echoes of Belarus, Where presidents pin badges on disconnected youth"), backed by futuristic electronic sounds.
The band explores the vanity of Hollywood lifestyle in electro-pop song "Valley of the Pagans," a Beck collaboration, addiction in "Pac Man" with ScHoolboy Q, and a failed relationship in "The Pink Phantom," a collaboration with both 6LACK, a modern rapper, and Elton John, a classic rock artist, believe it or not. 
There are moments in the album where you question the approach (6LACK and Elton John in one song? R&B in Bambara French?), but it somehow all works. The band floats between sounds and genres flawlessly, incorporating collaborators ranging from JPEGMAFIA to Unknown Mortal Orchestra to The Cure's Robert Smith. This unique blend mirrors our present world state; frantic and uncertain but also boundary breaking and change-making. They recognize the unique events of 2020, but sound optimistic and refreshing nonetheless. 
Within their first season of Song Machine, Gorillaz manage to break the mold and create a unique listening experience that captures both the present and future of our world.
Fictional band members Russell Hobbs, 2-D, Niccals, Noodle (left to right) (Google photos)