Sailor Strong: Fall Sports Recap
With a year filled with uncertainty and many tough decisions to be made, one of the topics of contention was high school sports. With the global pandemic wiping out the athletic spring season, student-athletes knew there was a chance that sports would not return immediately. However, on August 24, Governor Andrew Cuomo announced that low-risk sports, such as field hockey, soccer, tennis, swimming, golf and cross-country, could resume practicing on September 21, and even play games. News 12 featured two Hendrick Hudson senior athletes in a story on the return of the fall sports season, Sarah Mandelkow (cross country) and Ryan Travis (football).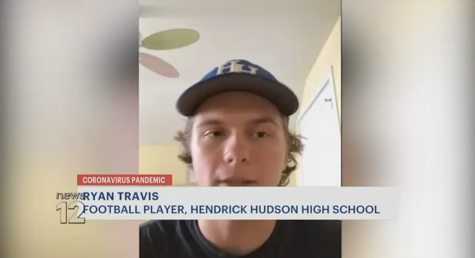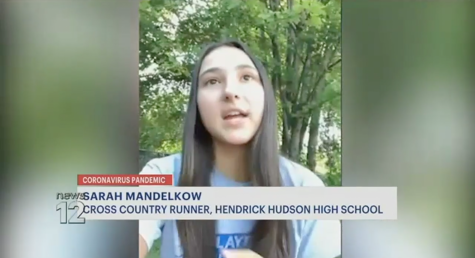 As everyone was excited to have a season, the student-athletes were cooperative with the new routine of daily Covid forms, temperature-checking, and masks. Coaches made sure to inform the student-athletes of the new protocols and demonstrate proper mask etiquette. Athletes were required to practice with their masks on and maintain social distancing when possible. The new regulations didn't dampen the coaches and student-athletes' enthusiasm, thrilled as everyone was to be able to play at last.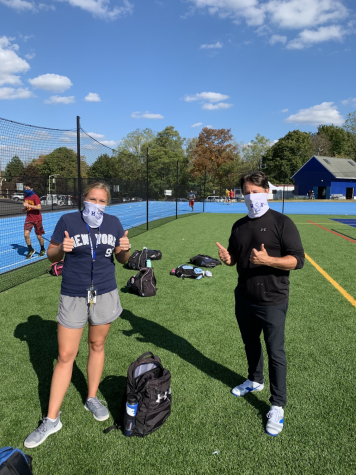 With practice cancellations common due to COVID-19 risks, the student-athletes were grateful for every practice possible. Every minute of every practice, they worked as if it were their last, because it very well could be. The unpredictability of these times has fostered an environment of grateful and hardworking student-athletes.
The new regulations made it difficult to have a traditional game setup, but school spirit remained undamped. The home spectators were the only outsiders allowed to watch the games. However, the minimized crowd managed to be just as spirited, especially considering how well Hen Hud did during the fall season.
The Sailors did not stop dominating, even with the drastically different environments. Varsity Boys Cross Country placed third and Girls Cross Country won the Section One Putnam Northern Westchester Championship. Varsity Girls Tennis's Nhat-Dinh Nguyen and Alyssa Margiotta placed as semi-finalists in the singles Regional Tournament. Varsity Girls Field Hockey's Caroline Coronel was nominated for Field Hockey Player of the Week on lohud.
This year's senior student athletes fought through the fall season with grace and determination. For Varsity Girls Field Hockey, Vanessa Rossi (left) and Caroline Coronel (right) lead their team through numerous victories and kept their team's heads up high
For Varsity Girls Soccer, (from left to right) Kira Varada, Elizabeth McDowell, Evelyn Zhinin, Molly Gibson, Salena Salameh, Megan Abatemarco, Madison Gough, Alexandra Simonetti, Madison O'Hara, and Iliana Done celebrated their senior night during their first game and had a great season.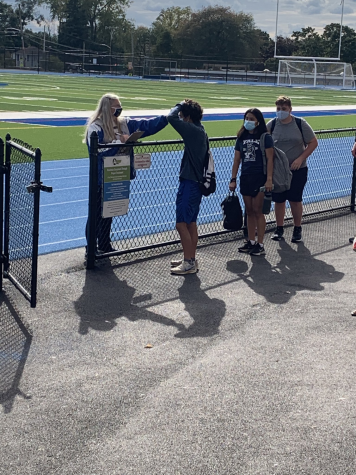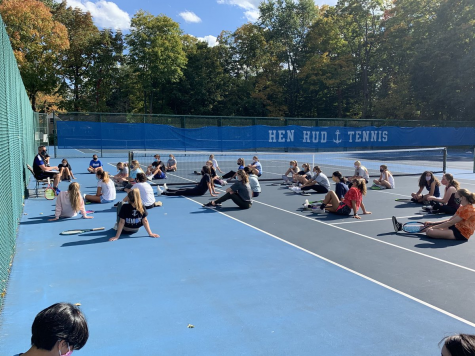 Congratulations to all of our fall sports athletes!
Fall I Sports Stats:
Varsity Boys Soccer
Season Record 3-9; League Record 0-5; League Standing 3rd       
Giovanni Cardona – All League; All Section Hon. Mention
Luke O'Neill – All League 
Varsity Girls Soccer
Season Record 5-7; League Record 3-2; League Standing – 2nd      
Megan Abatemarco – All League hon. Mention
Sabrina Byrne –  All League hon. Mention
Kayla Cohen – All League hon. Mention
Katherine Couch – All League
Molly Gibson – All League
Madison Gough – All League hon. Mention
Lena Johnsen – All League
Elizabeth McDowell – All League
Madison O'Hara – All League; All Section hon. Mention
Alexandra Simonetti – All League hon. Mention
Kira Varada – All League; All Section
Varsity Field Hockey:
Season Record 5-6-1; League Record 2-5-1 
Caroline Coronel – All League Hon. Mention
Taeghan Dapson – All League; All Section Hon. Mention
Rowan Dapson – All League Hon. Mention
Alana Espinoza – All League Hon. Mention
Vanessa Rossi – All League Hon. Mention
Emma Schembari – All League Hon. Mention
Varsity Girls Tennis:
Season Record 6-3; League Record 6-2; League Standing 2nd      
Shannon Ellis – All League 
Isabella Gatto – All League
Katelyn Keefe – All League 
Lucy Mager – All League 
Paige Montgomery – All League 
Jordan Porter – All League
Marta Przybylowska – All League 
Colleen Ryan – All League 
Varsity Cross Country:
Girls –League Standing – 1st; Boys – League Standing – 3rd    
Diana Alvarez – All League
James DeFilippis – All League 
Braden Flinchbaugh – All League 
Daniela Lastras – All League hon. Mention
Sarah Mandelkow – All League; All County
Isolde McManus – All League; All County; All Section
Hannah Quigley – All League
Benjamin Ramirez – All League hon. Mention
Zoe Rose – All League; All County
Lindsey Tellez – All League
Isabella Zahl – All League hon. Mention