The College Recruiting Process: What Athletes and Coaches Have Been Doing to Tackle Recruiting Season
This spring, with the world turned upside down for everyone, one of the major questions about the pandemic was how it will affect the college process, and specifically the recruiting process for high school athletes. With games cancelled, seasons on hold, and official visits suspended, athletes and college coaches were left wondering what to do. 
Typically, the majority of the recruiting process takes place junior year. Athletes reach out to coaches, set up phone calls, and research schools they are interested in. For sports like soccer and lacrosse, recruitment is heavily based on club/travel team tournaments that coaches attend throughout the year. For sports like track & field, that are more empirical, coaches can monitor meet results. Athletes are invited to official visits with schools, where they have a chance to meet the team, see the campus, and get a better feel for the school. Athletes will typically commit to a school in junior or early senior year. 
This past spring and fall, everything changed. High school seasons and prospect days were cancelled, so coaches weren't able to see athletes play. The NCAA extended the dead period for recruiting, preventing in person contact with coaches and official visits. College athletes whose seasons were cancelled were granted an extra year of eligibility, reducing the number of new high school recruits. Coaches made efforts to get around these barriers and connect with recruits by setting up virtual tours, zoom calls, and putting recruits in contact with team members.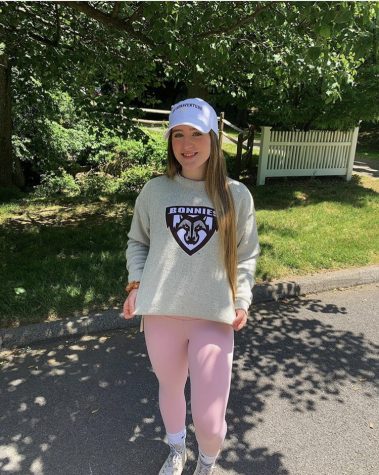 Over the spring and summer, athletes had to learn how to train on their own for an extended period of time. Senior Fiona McGovern, who is committed to play Division 1 lacrosse at St. Bonaventure's University, worked on her stick skills at home using a rebounder and goal and completed strength and cardio training to stay in shape, before slowly resuming play with her club team. She remarked how having training as part of her daily routine "kept me sane when it felt like the whole world had been put on hold." 
Senior Sarah Mandelkow, a member of Hendrick Hudson's cross country and track and field teams, kept in contact with track coach Marcia Bailey, who sent workouts for the team to complete. She was also able to add more strength training into her routine with the extra free time on her hands.  
While the pandemic made the recruiting process more challenging, it also bolstered the desire of some athletes to compete in college. 
Fiona McGovern said "I was really looking forward to this past season in high school, and having missed the entirety of it I realized that I definitely did not only want to play lacrosse for one more year. It made me eager to work even harder to be able to commit to play lacrosse at the collegiate level." 
Sarah Mandelkow agreed, stating that "taking that time off showed me how much I miss having competitions and running with a team." 
Currently, Mandelkow is thankful to be back to training and competing, mentioning that "being able to see my teammates and coaches everyday helps to keep me going" even though "it is tough to run in a mask." McGovern is hopeful for some type of lacrosse season, although it will likely be abbreviated, and said "as long as we get to play I will be happy."