NHL Stanley Cup Playoffs Begin
Into the second week of the Stanley Cup Playoffs, all teams have completed at least 5 games up until now. All series but one, the Vegas Golden Knights with their victory over Winnipeg, are continuing into Game 6.  
Eastern Conference: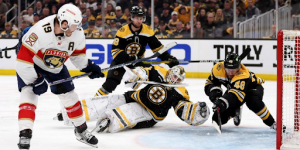 Boston Bruins vs. Florida Panthers (BOS leads 3-2)
The hottest team in hockey continues their impressive season, currently beating the Florida Panthers three games to one. The Panthers, however, are putting up a valiant fight, refusing to end their series Wednesday night in a grueling overtime win when Boston goaltender Linus Ullmark set the puck the wrong way around the net, leaving Matthew Tkachuk wide open in front to keep  his team alive.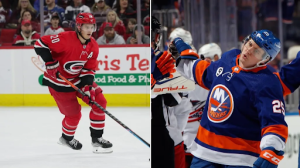 Carolina Hurricanes vs. New York Islanders (CAR leads 3-2)
The Carolina Hurricanes led the series 3-1 after a Sunday afternoon win with a score of 5-2, with star players Sebastian Aho (don't be confused by Sebastian Aho of the New York Islanders, an interesting coincidence two players with same name play against each other) and Seth Jarvis. The Islanders would keep their series going on Tuesday night with a 3-2 regulation win, and their star players in Pierre Engvall and Brock Nelson each having contributed a goal.
Toronto Maple Leafs vs. Tampa Bay Lightning (TOR leads 3-2)
In a somewhat surprising fashion, the Toronto Maple Leafs currently lead the series, up three games to two against the Tampa Bay Lightning. Last Saturday's overtime victory on a goal from Morgan Rielly contrasted their gameplay much of that night, for they were overall outplayed by Tampa. This win would lead to another 5-4 overtime victory in a similar fashion as Monday night, this time the hero being Alexander Kerfoot on the power play. The Lightning won Thursday night in Toronto, leaving the series at 3-2 Toronto. 
New Jersey Devils vs. New York Rangers (NJ leads 3-2)
After it seemed the Rangers were poised to sweep the series, outplaying the Devils in the first two games with 5-1 wins in Newark, the Devils retaliated back fast, with two wins at MSG and another at home in game 5 to lead the series. While Jack Hughes continues to impress for New Jersey, playing rookie goalie Akira Schmid seems to see the Devils well readjusted to their opponents, leaving the Rangers in a dangerous predicament for Game 6 in Manhattan following an embarrassing 4-0 shutout loss Thursday night. 
Western Conference: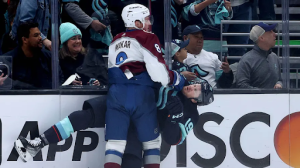 Colorado Avalanche vs. Seattle Kraken (SEA leads 3-2)
This series has heated up, with the rookie team coming out on top at the end of five games. The biggest news from this series as of late is Cale Makar's controversial hit on Kraken forward Jared McCann, leading to a one-game suspension. Makar;s absence may have hurt the Avalanche, but McCann's for the Kraken did not, as Seattle would win in a 3-2 victory in Denver on Wednesday.
Dallas Stars vs. Minnesota Wild (DAL leads 3-2)
Dallas, despite only leading the series by one, seems to have good momentum going into Game 6. Capitalizing off the power play is the Star's approach; Minnesota is one of the most penalized teams in the league, proof of this in Game 5 when Tyler Seguin was able to score only just over 2 minutes into the game off of a five-minute misconduct penalty on Minnesota's Marcus Foligno, Seguin's fourth power play of the series. Dallas would shut the Wild out in Tuesday night's game, and Roope Hintz would make Dallas franchise history now having the highest-scoring playoff series for a Dallas player. 
Vegas Golden Knights vs. Winnipeg Jets (VGK clinch series in Game 5)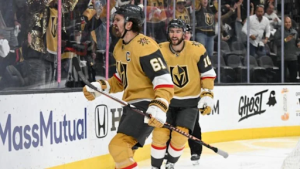 The Vegas Golden Knights are moving onto Round 2 after beating the Winnipeg Jets in Game 5 of the first round. While it was Thursday night's 4-1 victory that would clinch the series, the Golden Knights were on a heater from Game 2, winning every game after. Winnipeg struggled to recover, especially after the loss of Josh Morrissey to a lower body injury in game three; with 24:14 of ice time per game, Morrissey was the runner-up for highest point scorer of the Jets with 76 points in the regular season. Mark Scheifele is another Winnipeg player, absent from Game 5, that hurt the Jets and killed their chances of moving forward. 
Edmonton Oilers vs Los Angeles Kings (EDM leads 3-2)
Coming off an overtime win in Game 4, the Edmonto
n Oilers would beat the LA Kings in Game 5 with a score of 6-3. Both the Edmonton offense and defense would show up; Nick Bjugstad led the offensive line with 2 goals, and defenseman Darnell Nurse would have 2 assists. Los Angeles' most costly weakness Tuesday night was their penalty, for the Oilers scoring 2 goals on the power play that night.
Upcoming Games:
Friday night: Hurricanes vs Islanders @ 7PM, Bruins vs Panthers @ 7:30 PM, Stars vs Wild @ 9:30, and Avalanche vs Kraken @ 10PM
Saturday night: Devils vs Rangers @ 8PM … Oilers vs Kings and Maple Leafs vs Lightning TBD
Leave a Comment
About the Contributor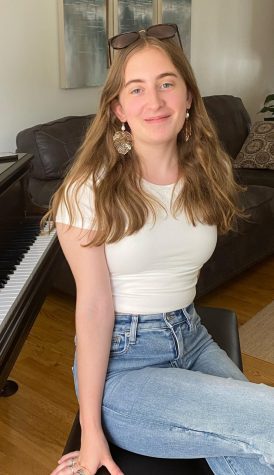 Castalia Litos, School and Community Editor
Castalia is the editor of School and Community News for The Anchor. Outside of the newspaper, Castalia participates in several afterschool clubs; she...