Student Spotlight: Omar Saleh
WESTCHESTER, New York – Hendrick Hudson High School is home to students from all walks of life, and Omar Saleh is the perfect example of this. Omar, a senior originally from Yemen, aspires to take on the digital world, intending to pursue a career in Computer Science.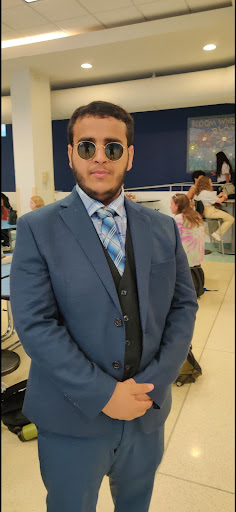 Omar is extremely vocal about his love for technology, promoting Hen Hud's STEAM Day to anyone who will listen. STEAM Day will be held on March 16th after school in the cafeteria, where people will present the achievements of their clubs as a showcase to promote public funding. The public will get to see how innovation has followed students from the early ages of school through the assistive implementation of technology. Omar's role in the event will be to interview guests. With the help of Mrs. Vaneeta Joy and the STEAM Club, advised by Mr. Zollner, Omar acquired a green screen to present a newscast-esque interview segment.
Omar's expertise in all things technological will allow him to film and edit the videos from this presentation. Omar uses these complex interfaces, including Adobe After Effects and Sony VEGAS, for both personal and professional projects, including ones like the STEAM event. 
Omar's start to technology began at just nine years old. He grew up watching his uncle back in Yemen using 3D modeling for animation and was instantly fascinated by the technology. While he cites this uncle as an inspiration for his interests now, he has yet to see him since he first moved to the United States.
Omar first moved to the US back in 2016, and has yet to return. His journey to the States is a significant one that many might not know. Omar grew up in Ussum, Yemen before taking this extensive move to the states. The move was for the same reason many immigrants do: for opportunity. The trip took eighteen days. The first step was the bus to get to the coast of the Red Sea. Seemingly enough, that was the easy part. 
Next, was the boat ride across the Bab-el-Mandeb strait. One boat, two floors, eighteen miles. The trip from Yemen to the African country of Djibouti was highly dangerous, with the boat almost sinking twice. Upon arriving in Djibouti, Omar and his family lived in a hotel for fifteen days. Omar noted that the heat was unbearable, even with his experience in Yemen, where temperatures easily pass 90 degrees on a regular basis. After staying in Djibouti, the Salehs were able to travel from Djibouti Ambouli International Airport to Doha, Qatar by plane on a layover that got them to LaGuardia. The roundabout journey in the Middle East was largely a result of a lack of an airport, as Yemen's only airport had been bombed and was no longer in use.
Upon arriving in the states, Omar soon began attending sixth grade at Blue Mountain Middle School. The struggle was immediate, with the language barrier posing a serious boundary. The immersion quickly helped Omar learn the English language, and gave him his good friend Mohamed Mbareck, who knew some Arabic and was able to help.
The American high school experience has been a notable one to Omar. He won Homecoming Court in both Freshman and Junior year. Many claim he would have won all four years if it weren't for COVID's forced hiatus, and the recent end to the tradition. Even now, Omar has found his way at Hen Hud and in Westchester. He is very involved in school events and club activities, and even works at Buchanan's local deli, Da-Ros, which is owned by his father.
Omar remarked on some notable changes from his experiences in schooling from Yemen to the states. He describes the drastic change as a sort of culture shock. Back in Yemen, you were physically punished if you fooled around in class or you didn't do well. Once that fear was gone, thanks to the American educational system, he realized how unmotivated he had become. Omar soon realized he still had to work hard, and finding that motivation,without the threat of physical consequence, was difficult. Omar recommends that anyone who is feeling unmotivated–which many of his fellow seniors can likely relate to–need to "change their perspective, and see things as a challenge for themselves."
Omar has taken this advice and has built himself up from his lackadaisical days at Blue Mountain. Now, Omar plans to go to college, majoring in Computer Programming and Mathematics, and start his own company to program computers. He is not yet sure of where he will go, but he's leaning towards local options: Pace University, in Pleasantville and Mercy College, in Dobbs Ferry.
Omar's journey from the war-torn Middle East to the US has presented him with the sought out American Dream of opportunity, that he's taken advantage of to the fullest extent. His future is without a doubt bright and his innovative tendencies are sure to take him further than he ever could have imagined.
Leave a Comment
About the Contributor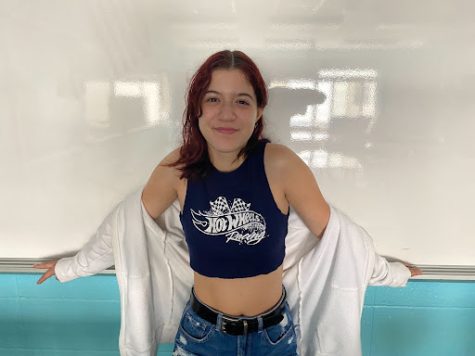 Quinn Muller, Writer
Quinn is a senior at Hen Hud, and this is her first year on The Anchor. She is the Co-Editor in Chief and runs Fit of the Week. In her free time, she...