Fashion at the Golden Globes
LOS ANGELES, California – After a scandal resulted in the cancellation of last year's Golden Globes, the event returned this year on Tuesday, January 10th. This is the 80th annual award show, and is a looser commemorative special, comparable to the Oscars. 
Many red carpet looks stood out this year, with many adding a tinge of disappointment to the experience. The red carpet, which was gray this year, is a symbol for fashion everywhere, but also serves as a reminder that money does not equate to style.
---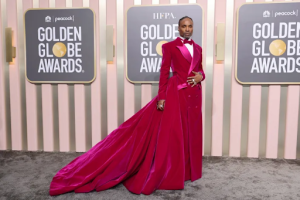 Billy Porter
A continuous fashion icon, Porter brought on an androgynous hot pink look consisting of statement after statement. Not pictured are a pair of bedazzled silver platform heels.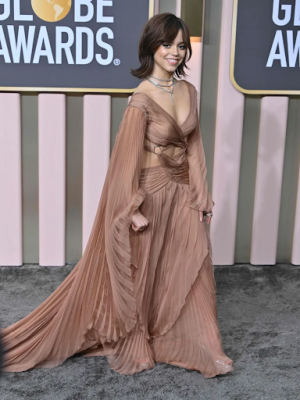 Jenna Ortega
Ortega, well known for her leading role on Netflix's
Wednesday
, proved her style to be wholly different from her character's typical dark, gothic fashion. The actress sported a long, loose, flowy dress with questionable pleating details.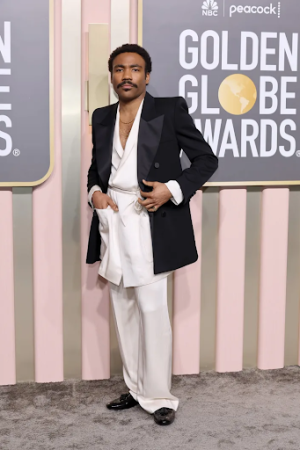 Donald Glover
Glover, known to many as Childish Gambino, showed off an all white suit, a statement in itself, topped with a longer blazer sort-of jacket . The look is a bit careless, especially from a tailor's perspective. The look's brilliance was lost due to poor hem lengths on each and every layer.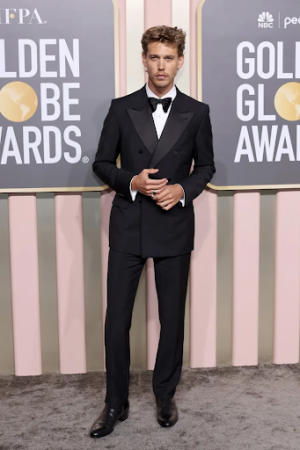 Austin Butler
Basic. The suit is nice, we can give him that, but this is not the purpose of a red carpet appearance. No statement, just black.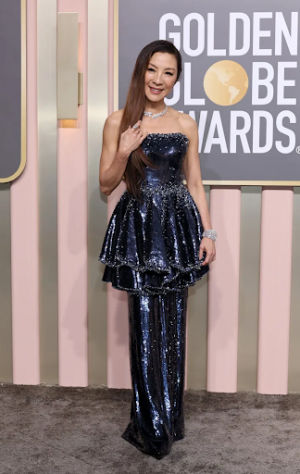 Michelle Yeoh
This look is confusing— It falls between trying too hard to make a statement and actually making a statement. The look is bold for sure, and the color and material is a great pick, but the style is too much. The piece would be significantly better if it stuck to one silhouette: mini dress or j
umpsuit.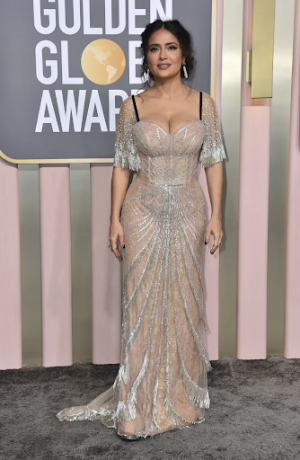 Salma Hayek
Hayek brought a disappointing look to the Golden Globes Tuesday night, with so much potential not taken advantage of. The dress, though potentially stunning, falls short as it fails to properly accentuate her form and incorporates a seemingly out of place addition of fringe.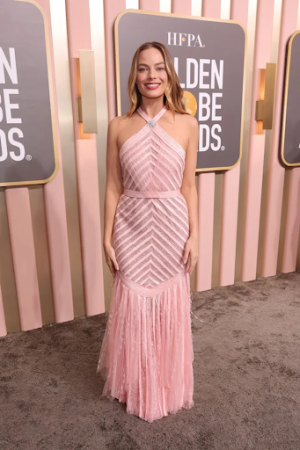 Margot Robbie
While Robbie is beloved for her acting talents, she failed to impress with her overly simplistic dress. The baby pink poorly matches her skin tone and exhibits an extremely poor use of shear fabric and contrasting textures.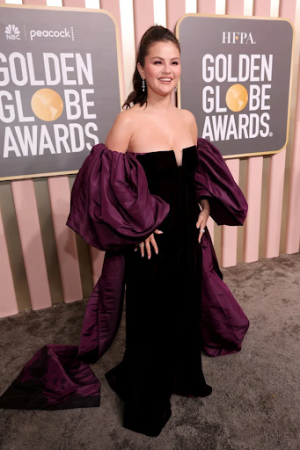 Selena Gomez
Known for her role in the TV show
Only Murders in the Building,
Gomez showed up to the Golden Globes in a jaw-droppingly sleek dress. From the color to her hairstyle, Gomez pulls off her look perfectly. The dress itself provides the perfect amount of balance, from texture to color, and even to the shape and cut of the dress.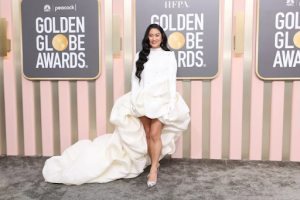 Chloe Flower
Composer Chloe Flower wore a stark white dress cutoff at the legs that beautifully trailed behind her. Expressing simple elegance, the look is one of the best shown on Tuesday night.
Heidi Klum and Tom Kaulitz
Klum brought arguably one of the best outfits of the night, with simplistic colors juxtaposing brilliant textures. Kaulitz, her husband, brought a completely contrasting outfit, in his classic yet forgettable suit. Despite this, the couple stood out amongst the other stars present at the Golden Globes.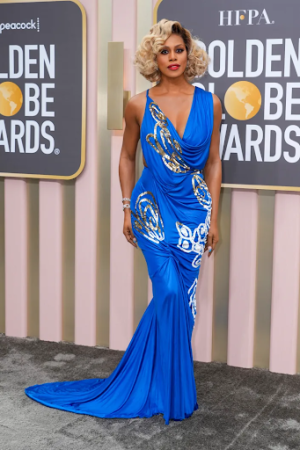 Laverne Cox
In a flash of blue and silver, Cox turned heads with a cinched maxi dress. The look modestly displays the aspirations of many designers, combining art with fabric to conjure something amazing.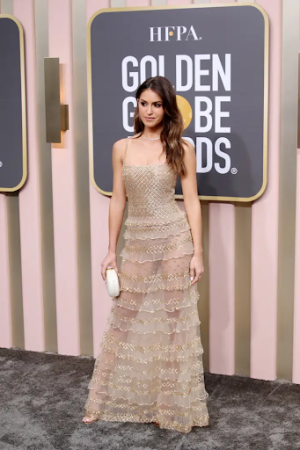 Gigi Paris
While the outfit may look similar to Salma Hayek's, it arguably does everything she tried to do, but better. Complete with a white pocketbook, Paris earns a 10/10 from us.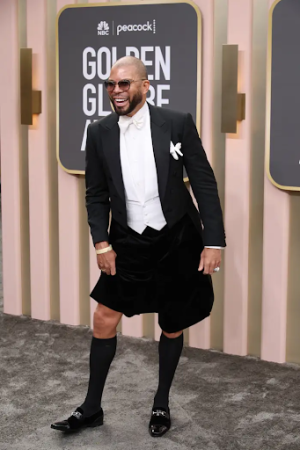 Al Reynolds
Shorts. Really? Props to Reynolds for being bold, but there's a blatant difference between the shock factor and the wow factor. The look is a complicated mess of black tie attire gone wrong.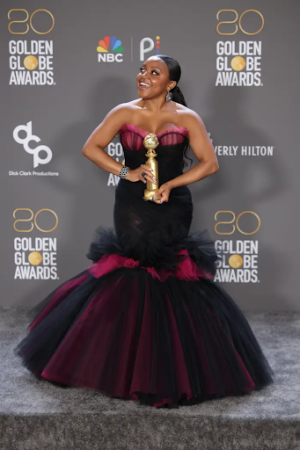 Quinta Brunson
No. This look is absolutely rough. It's the definition of an erred 2000s prom dress. The overuse of tulle, the color combo, even the bodice is resembling snake eye underwire bikini tops from the Y2K era. If that's what Brunson was going for, great, but this look is genuinely horrendous to look at.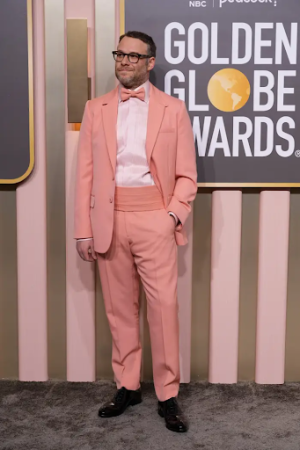 Seth Rogen
While Seth Rogen may be better known for his comedy, he brought an unexpectedly good outfit to the Golden Globes. While you may not expect bowties and pink to work well together, they work in tandem to bring a fresh yet simple look. The only downfall is the too minimalistic contrast of black and white, but the look in itself is eye-catching in all the right ways.
Leave a Comment
Donate to The Hendrick Hudson Anchor
Your donation will promote student journalism at Hen Hud.
About the Contributors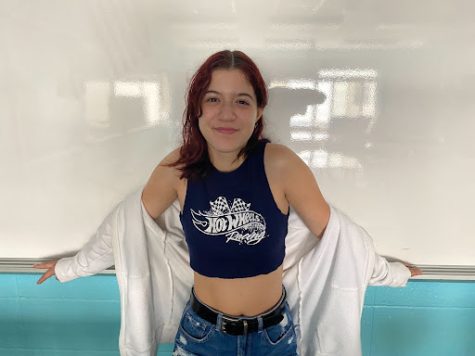 Quinn Muller, Writer
Quinn is a senior at Hen Hud, and this is her first year on The Anchor. She is the Co-Editor in Chief and runs Fit of the Week. In her free time, she...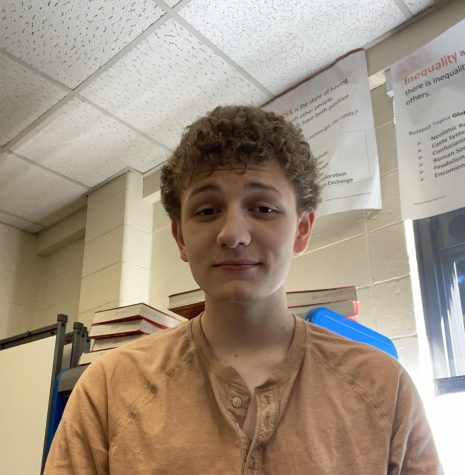 John May, Writer
John May is a junior at Hen Hud and this is his first year writing for The Anchor. In his free time off from writing, running the Stars and Stripes club,...