Emma Litvinsky's Holiday Cupcakes
Every year, I spend the morning of the first day of holiday break making these cupcakes. Throughout the week, the cupcakes slowly go away as more of my family eats them. Then, at the end of the break I make one more batch just so I can have extra holiday spirit for the following week. The rich flavor of the chocolate mixed with the coconut is refreshing and filling. When it comes to customizing your toppings, the choice is yours.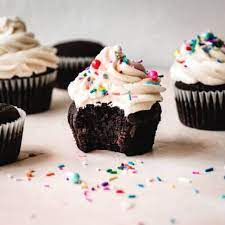 EMMA'S HOLIDAY CUPCAKES
ingredients needed:
2 cups sugar 
1 3/4 cup flour 
3/4 cup cocoa powder 
 1 1/2 teaspoons baking powder
1 1/2 teaspoons baking soda
1 teaspoon  salt
2 eggs
1 cup milk
1/2 cup vegetable oil
2 teaspoons vanilla extract 
1 cup boiling water 
vanilla frosting 
coconuts flakes
festive topping things like m&ms, twizzlers , marshmallows 
Preheat oven to 350 F

Boil one cup of water.

In one bowl: mix the sugar, flour cocoa powder, baking soda, baking powder and salt.

In a smaller bowl: mix the milk, vegetable oil and vanilla extract.

Combine the two bowls and whip it for 2 minutes. 

Once whipped, while stirring, slowly pour in the boiling water. ( the batter will be thin)

Pour into a cupcake tray. 

bake for 22-25 minutes 
Leave a Comment
Donate to The Hendrick Hudson Anchor
Your donation will support student journalism at Hen Hud, allowing us to cover our printing and website hosting costs.