Dr. Barcomb's Tourtière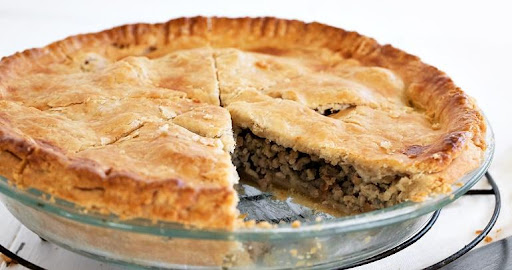 As a kid in upstate New York visiting relatives near the Québec border, there was always a large feast planned. We usually visited the Plattsburgh area for Thanksgiving and Malone for Easter. My father had five siblings, each with multiple children, and various aunts, uncles, and cousins of his could be in attendance as well. While the main courses were turkey, ham, and roast beef, there was always a meat pie somewhere on the table.
Not mincemeat pie, as that is a dessert pie made from dried fruit and beef suet. I'm talking tourtière, a meat pie which is usually made with ground pork and some holiday spices like cloves, allspice, and sage. Families would often make multiple pies around the winter season to give out as gifts to friends and to freeze for later in the spring. And of course, they are often eaten at Christmas.
About ten years ago, Maddie and I went to Québec City and we ate lunch at a restaurant called aux Anciens Canadiens. They had some regional meat pies on the menu such as the Lac St-Jean made from caribou, elk, deer, and beef. Others contained duck and pork. I soon discovered that there were many varieties of meat pie which are popular in different regions of Canada.
The recipe that I use is very simple. It contains pork and beef, some potato to act as a binder, and of course some spices. My relatives would probably frown at the garlic, but they frown a lot anyway. The recipe is for two pies, so you can give one to a friend and keep the other all to yourself. Bon appétit!
---
Ingredients (for two pies):
1 pound ground beef
1 pound ground pork
1 large onion, diced fine
1 celery stalk, diced fine
1 large potato, cubed small
4 cloves garlic, crushed
½ tsp ground cloves
1 tsp ground allspice
1 tsp ground sage
1 dash pepper
24 oz beef stock
4 pie crusts for two pies
Directions:
1. In a large pot, brown the ground meat; drain well.
2. Add onion, celery, potato, garlic, cloves, allspice, sage and pepper; mix well.
3. Add beef stock; bring to a boil. Reduce heat and simmer for an hour or so.
4. Drain off excess liquid and cool meat mixture. Preheat oven to 425°.
5. Fill the two shells with half of the meat mixture each; cover with the top crust, seal edges and score to allow steam to escape.
6. Bake at 425° for approximately 45 minutes or until the crust is golden brown.
Leave a Comment