Fit of the Week: 11/14-11/20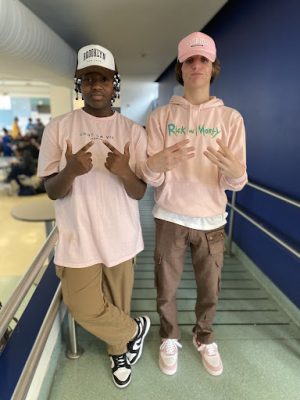 Over the past week, our photographers have been on the lookout for outstanding paired outfits at Hendrick Hudson. This week's winners were Imani "Baby Curry" Yusuf & Garett Bouza. Runners-up were Jadon Seenjan & Chantal Fernandez, Colin Cody & Carter Alcock, John & Lucas O'Connor, and Sage Faulkner & Nikko Bianchi. 
Imani and Garett coordinated dripped-out brown and pink palette outfits this week. Baby Curry sported an oversized pastel pink tee stating "C'EST LA VIE" in a bold black print. On the bottom, she wore tan straight-leg cargo pants and Nike Dunk Lows in the Panda colorway. Back to the top, Baby Curry wore a two-tone trucker hat with a brown panel and brim and a white front panel reading "BROOKLYN" in varsity-themed lettering. Garett matched the theme with a pale pink "Rick and Morty" hoodie atop a white tee. Like Baby Curry, he wore dark brown straight leg cargo pants with a bit of extra length on the bottom. Contrary to Imani's brown hat, Garett pulled off a pink baseball cap reading "FLORIDA" in similar varsity lettering. The most eye-catching part of Garett's fit are his shoes. He modeled Nike Air Force 1s in the Love Letter colorway. The colorway is a combination of Tulip Pink on the mudguard and eyestays, white on the quarter and toe box, University Red on the swoosh and tongue tab, and Pink Foam on the outer sole.
This week's vote features a series of paired fits for our Dressy Duos special edition. Jadon and Chantal are pictured in matching forest green hoodies and light wash jeans. Chantal wore Nike blazers, and Jadon wore olive low top Converses. Colin and Carter were seen in black and blue suits: Colin wore a gray hoodie with loose light wash jeans and Air Jordan 1s in the Silver Toe colorway, and Carter wore a black Nike hoodie over a white tee topped off with a thin black corduroy jacket. On the bottom, he wore gray slacks and black Converse Red Heart Chuck Taylors. John and Lucas were seen in matching bases with varying colors. The fit was made up of flannels layered over hoodies atop cargo joggers and Adidas sneakers. John wore Yeezy 350 V2s in the mono Ice colorway, while Lucas wore Adidas NMDs in a since discolored All White colorway. Nikko and Sage matched in olive tones. Nikko wore a black mock neck top with olive cargo pants and olive platform Converses. Sage sported a black mock neck top underneath a baggy olive crew neck sweater, dark denim skirt, nylons, and glossy oxfords.
Hen Hud had some amazing wardrobes this week, and Garett and Baby Curry's outfits pulled ahead in this week's Fit of the Week competition. Keep serving great fits! Next week's article will cover our Dress Duos special edition so check the site for updates!
To submit photos for the Fit of the Week, DM us on Instagram, or contact any of our photographers: Maddie Figueroa, Jericho Shea, and Emily McGrath. 
Check out this week's runners up!