HenHud's Music Making Program: United Sound
Music is an instrumental part of life, something we can all share. It's the universal language that doesn't discriminate. It's open to everyone, and that is exactly what United Sound aims to do; provide music education to all regardless of any obstacles students might face. April is recognized as Autism Awareness Month, a perfect time to acknowledge a program that promotes the inclusivity of individuals with autism and disabilities and allows them to participate in music in their schools, just like HenHud has. 
HenHud was particularly unique regarding United Sound, being the first New York school to implement the program, and is still the only school in New York State to host this program.  Started in the fall of 2019, the program was first taught by Mrs. Morabito, our school's orchestra director. 
"United Sound is an incredible program. Watching students learn from one another and develop relationships is the best part of it. I look forward to our concert this spring," Morabito said.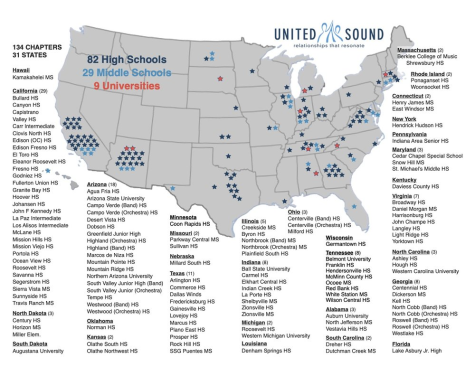 The program is recognized on a national scale, reaching 29 states with over 100 "chapters," or programs. Started in 2014 with only 5 schools and 155 students, in 2019, they reached 135 schools and 3,240 students, a cumulative 5-year total of over 8,000 student participants. Their message of the belief "that all children should have access to meaningful and authentic music education and musical experiences," using "music as a vehicle for transformative change" has impacted thousands of families across the country, and many here at our own school.
The president of our school's chapter this year, Sarah Mason, has seen the impact firsthand. 
"United Sound is a wonderful program that I am very proud to be a part of. As a peer mentor, I am happy to be able to make an impact on my new musician's musical journey. United Sound is genuinely my favorite class of the day, as I can fulfill my passion of teaching music while spending time with a student I now consider to be one of my greatest friends," said Mason.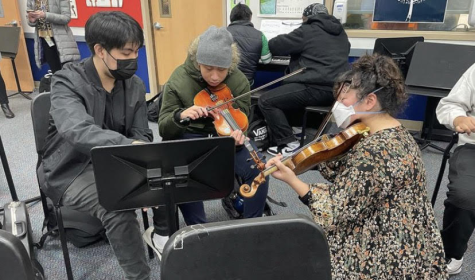 The program not only ignites the flame of music, building the passion many students here already possess but want to improve on, but it also fosters friendships through the experience. 
United Sound continues to inspire all of the kids on both sides of the experience, those immersed in the learning environment and the peer mentors. HenHud is lucky to have a great program, one that is run by great teachers. During the month of April, we observe Autism Awareness, and it is progressive programs like these that allow everyone to feel a part of their community, all connected by the power of music and music education.