Kamala Harris Makes History as Vice-President
Kamala Harris is set to become the first female Vice President of the United States on January 20th, 2021. As a Senator from California, and the former Attorney General of the state, Harris decided to run for President in the primary election back in 2017. Despite losing in the primary, Harris was chosen as the Democratic Vice Presidential candidate by the Democratic nominee for President, Joe Biden, back in August of 2020. Biden ended up winning the 2020 Presidential Election, making Harris the first African American, Indian American and woman to become the Vice President. On the night that Harris made victory, she said, "While I may be the first woman in this office, I will not be the last." Harris is not just making history, but creating a new future where all girls can see her as a role model. Especially coming from an immigrant family, she is the change that the world needs to see.
Kamala Harris is the daughter of Donald Harris, a Jamaican immigrant and professor at Stanford University, and Shyamala Gopalan Harris, a former biomedical scientist who moved to the United States from India. Growing up in Oakland, California, Kamala Harris was a studious individual who earned her Bachelor's Degree in political science and economics at Howard University and attended the University of California, Hastings for her law degree.
Harris began working as a deputy district attorney for eight years then officially became a district attorney due to her reputation of being tough on prosecutor cases. In 2012, Kamala Harris married Douglas Emhoff, also an attorney. Four years later, Harris was elected to the U.S Senate, representing California. This accomplishment made her significantly known for being the second African-American woman and first Indian American to serve in the Senate.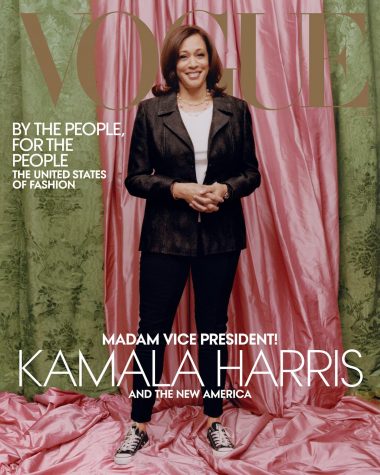 The election of Kamala Harris to be the United States's next Vice President will have a resounding impact here at Hen Hud too. Senior Grace Moretti thinks Harris, "Has great ideas to make our country better." Moretti feels, "Safer knowing that women of all colors will be getting more representation in our country." Junior Sophia Sklar is excited by her victory and thinks, "It's great for little girls across the country who aspire to have a career in politics, regardless of gender." While Sklar disagrees with some of Harris's political beliefs in "pro-fracking and not decriminalizing sex work" and thinks that Harris "is transphobic," she feels content about Harris's victory. Similarly, freshman Julia Visconti notices "some things [Harris] has done in her career are not the best" and that not every politician has "a spotless record." Nevertheless, both Sklar and Visconti are happy that there will be a female in the White House and are excited to see women being more represented in government.
Harris is bringing a new age upon us, as did Barack and Michelle Obama, Hillary Clinton, and Ruth Bader Ginsburg before her. Each of these historical figures worked to build a better America starting with proving society wrong. Barack Obama became the first African-American President of the United States of America, serving two terms. He is mostly known for creating the Affordable Care Act and dealing with the worst economic recession the United States has seen since the Great Depression. He is also known for being one of the best orators in America's Presidential History. One of his famous quotes is, "To be an American is about something more than what we look like, or what our last names are, or how we worship." This quote truly highlights his compassionate personality and the true significance behind what it means to be an American. To this day, Obama is still widely revered and supported by millions of Americans.
Alongside him, Michelle Obama has been one of the most influential First Ladies in American history and was the first African-American woman to be the First Lady. She is known for advocating for education, poverty awareness, and child obesity. Due to their accomplishments and legacy, the Obamas became a symbol of hope and a role model for all African Americans as well as a new future for America. From protesting to exercising their rights, African-Americans made it possible for future generations to obtain the American dream of life, liberty, and the pursuit of happiness. The Obama's have been remodeled to Kamala Harris who would soon have her future in following their footsteps.
In 2016, Hillary Clinton, a former First Lady, U.S. Senator, and Secretary of State, ran for the Presidential Election. Clinton's historic nomination by the Democratic party made her the first woman to run for president on a major party ticket. Despite losing, she still made history and opened the door of opportunity for every woman, including Kamala Harris, to prove society wrong.
The late Ruth Bader Ginsburg is yet another example making history. As the former Associate Justice of the Supreme Court, Ginsburg is another female who proved society wrong by becoming the second woman and first Jewish woman ever appointed to the Supreme Court. Unfortunately, Ginsburg passed away on September 18, 2020, but her legacy remains forever in America, as does every other woman who fought for their rights.
Inspired by the historic strides of the Obamas, Hillary Clinton and Ruth Bader Ginsburg, Kamala Harris will forever be known as a pioneer for gender and racial equality. Throughout history, both women and African-Americans have broken social and political barriers in their fight for justice. Kamala Harris is not only a great example of having the courage and persistence to break that barrier, but also proves it is possible to go against the odds and become anything you want to be. Harris represents the past, present and future of change that will someday cause everyone to see the world no more in black and white, but in all colors.