Coming Soon to a Theater Near You: Upcoming Movies Preview
Or maybe just your home TV screen…
With the Coronavirus taking over the nation in 2020, many films release dates and production starts have had to be pushed back. Here are some of the upcoming movies to look out for this year.
A Quiet Place Part II Directed by John Krasinski 
March 8, 2020 – April 23, 2021
After the events of A Quiet Place, the Abbott family faces more trouble as they learn the sound-sensitive creatures aren't the only danger in the world.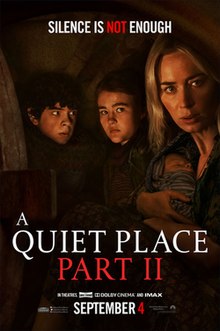 The Beatles: Get Back Directed by Peter Jackson
September 4, 2020 – August 27, 2021
This documentary will feature almost 55 hours of restored, never-before-seen footage of The Beatles" Get Back and Let it Be recording sessions. The documentary will feature new Beatles music that has never been officially released or heard ever before. With academy award-winning director Peter Jackson, the anticipated film is set to come out in mid-2021.
Dune Directed by Denis Villeneuve
December 18, 2020 – October 1, 2021
Starring Timothée Chalamet, Jason Momoa, and Zendaya, the film is the first of a two-part series based on the novel Dune by Frank Herbert. In the far future, Duke Leto Atreides accepts the stewardship of the planet Arrakis. With many others' help, he and his team fight to protect the most valuable item in the world known as "the spice."
Fatherhood Directed by Paul Weitz
January 15, 2021- April 2, 2021
After the unexpected death of his wife, Matthew Logelin, played by Kevin Hart, is left to raise their infant daughter on his own. 
The Forever Purge Directed by Everardo Valerio Gout
July 10, 2020 – July 9, 2021
Although the plot has yet to be released, the fifth movie in The Purge series is set to come out mid-2021.
In the Heights Directed by Jon M. Chu
June 26, 2020 – June 18, 2021
Based off of Lin Manuel Miranda's hit Broadway show of the same title, In the Heights focuses on the lives of many different characters in the neighborhood of Washington Heights Manhattan. This musical drama is set to be released in 2021.
Jurassic World: Dominion Directed by Colin Trevorrow
June 11, 2021 – June 10, 2022
The next movie in the Jurassic World series, the plot has been kept under wraps. Still, we know that stars such as Chris Pratt and Bryce Dallas Howard will return for their respective roles. 
Top Gun: Maverick Directed by Joseph Kosinski
June 24, 2020 – July 2, 2021
35 years after the original Top Gun, Pete "Maverick" Mitchell has continued his career as a Navy aviator. In this sequel to the 1986 hit, Maverick will have to face his past troubles while training new graduates for a top-secret mission.