"Puss in Boots: The Last Wish" Review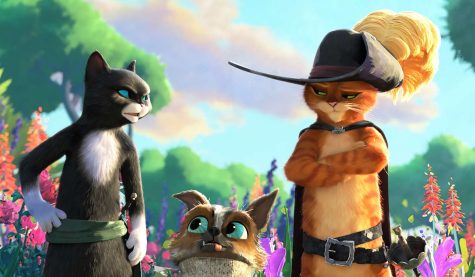 One of the most memorable children's movies of our generation is Shrek— it's been quoted, memed, and has shaped the comedic minds of thousands of kids. The Shrek saga introduced unforgettable characters like Donkey, the Gingerbread Man, and Puss in Boots. Puss in Boots: The Last Wish follows the cocky and adventurous tabby through the last of his nine lives. The film uses a videogame-style plot, with a map detailing our heroine's journey through different challenges. 
For the first time in his life, Puss runs away from a fight after the Wolf, a physical manifestation of death, appears with a haunting whistling and two sharp scythes. Puss begins to look for the Last Wish, a magical star to grant him more lives. This fear of death makes this movie much deeper than it lets on; the absurd Puss in Boots universe still has this real element to it. Puss's anxiety and fear over not only death but also vulnerability feel so human in its attempt to teach the viewer to cherish life and the people in it. The Last Wish also introduces an upbeat and adorably positive dog named Perro. His genuine happiness and good heart stand out in a world of overly complex characters.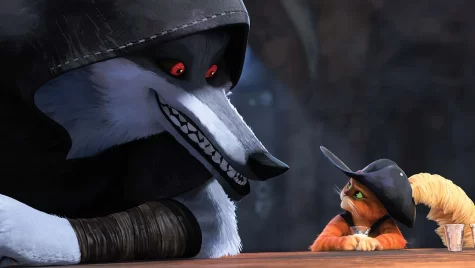 Produced by Dreamworks Animation, the film's style takes inspiration from the hand-drawn, comic-book qualities of Spider-Man: Into the Spider-Verse and Netflix's Arcane. Its bright and appealing colors are just downright fun to look at. Its bubbliness contrasts from the sometimes crude and semi-realistic Shrek universe that gives it an enjoyable facelift. The battle scenes use immersive angles to place the viewer right into the action. Also, the jokes were genuinely funny. John Mulaney's deadpan delivery as the greedy pie-mogul Jack Horner had the theater of young and old viewers laughing. Performances by Antonio Banderas, Oliva Coleman, Florence Pugh, and Selma Hayek give the characters so much personality and color. Overall, The Last Wish was extremely entertaining and didn't have an overly childish message. Its focus on selflessness and teamwork, but also family are messages that transcend generations. 
View Comments (1)
About the Contributor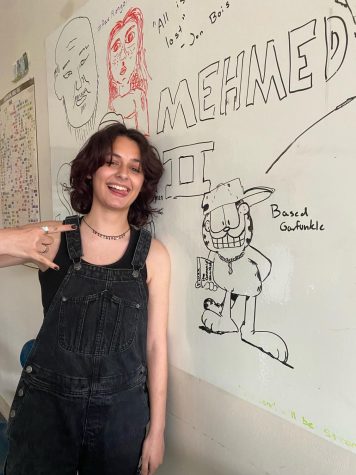 Kacie Burns, Arts and Entertainment Editor
Kacie is a junior at Hen Hud and this is her third year on The Anchor. For the paper, she does the layout, artwork, and writes. She is also the head editor...