Fit of the Week: 12/05-12/11
Over the past week, our photographers have been on the lookout for outstanding paired outfits at Hendrick Hudson. This week's winner was George Wright. Runners-up were Sammy Bruce, Chantal Fernandez, Elizabeth "Lizzy" Marafuoti and Nisaa Emery.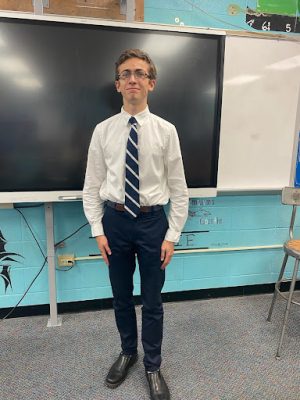 George dressed up this week in honor of his wrestling tournament later that day. Typically, varsity athletes dress up for game days as per their coach's request. The professional ensemble emphasized navy tones. George wore a crisp white button down dress shirt tucked into sleek navy pants. His bottoms provided a little extra length to give an air of increased height as they overlap thick white crew socks. Complementing the colors of his outfit, George wore a navy and white diagonally striped tie. Adding to the navy palette, George accessorized with a thin dark periwinkle belt with a brown accent. The fit was given more professionality with lightly creased black slip on oxfords.
Puffer season is in! Nisaa was seen in a thick bright white cropped puffer jacket, a popular trend resurfacing as winter approaches. She also sported a cropped white baby tee, sky blue sweats and matching Air Jordans. Lizzy, too, wore a white puffer jacket, though hers was longer and thinner. Underneath, she wore a ribbed white ultra-cropped tank with velour hot pink flare pants. Lizzy accessorized the look with a simple gold pendant necklace and platform white Chuck Taylors. Sammy was also pictured in a puffer similar to Lizzy's, but his was bright yellow. The yellow was paired with a simple white loose-fitting tee reading "NOT BOUND". On the bottom, Sammy wore dark brown joggers and uncreased Air Force 1s. Chantal was on theme in her pastel pink tracksuit straight out of the 2000s. The cotton set was complemented by white crew socks and pastel blue trainers.
Hen Hud had some amazing wardrobes this week, and George's outfit pulled ahead in this week's Fit of the Week competition. Keep serving great fits! 
Runner Up Outfits
To submit photos for the Fit of the Week, DM us on Instagram, or contact any of our photographers: Maddie Figueroa, Vera Montalbano, Samantha Gatto, Hayden Bouza, and Ali Mbareck.
Leave a Comment
About the Contributor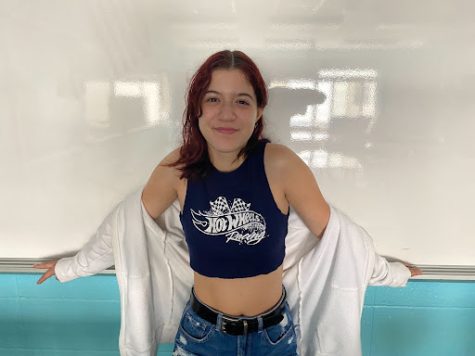 Quinn Muller, Writer
Quinn is a senior at Hen Hud, and this is her first year on The Anchor. She is the Co-Editor in Chief and runs Fit of the Week. In her free time, she...