Fit of the Week: 11/28-12/04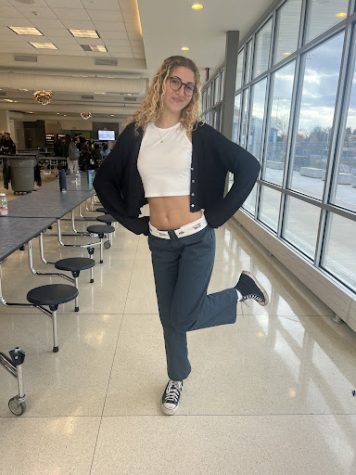 Over the past week, our photographers have been on the lookout for outstanding paired outfits at Hendrick Hudson. This week's winner was Vera Montalbano. Runners-up were Elizabeth "Lizzie" Apienti and Makayla Singleton. 
Vera cited Hen Hud English teacher, Mr. Rogulski, as her source of inspiration for this outfit. The fit consisted of warm tones highlighted by a pair of Dickies Original 874s work pants in Lincoln Green. The waist was folded over to add a hint of white that matches with a thick-hemmed cropped tank and Nike crew socks. Over her tank, Vera wore a DIY cropped, waffle knit, dark navy cardigan. Sporting a classic shoe, roughed up black high top Chuck Taylors, brought out the dark of her cardigan  to complement the color scheme. Vera accessorized the look with round rimmed tortoise-shell glasses and a simple gold engraved necklace.
Lizzie is pictured in a geometric patterned floral sweater in various shades of purple. On the bottom, she wore straight leg ripped jeans, platform Dr. Martens, and contributed some of the stereotypical French aesthetic with a knit beret. Makayla was seen in a Y2K inspired outfit highlighted with oversized pink sunnies and a pastel purple baby tee. Current trends were brought into her look with baggy cream cargo pants, classic Air Force 1s, and another neutral tone to pull back the vibrancy with a plain brown zip up hoodie. 
Hen Hud had some amazing wardrobes this week, and Vera's outfit pulled ahead in this week's Fit of the Week competition. Keep serving great fits! 
Runner Up Outfits
To submit photos for the Fit of the Week, DM us on Instagram, or contact any of our photographers: Maddie Figueroa, Hayden Bouza, Samantha Gatto, Vera Montalbano, and Ali Mbareck. 
Leave a Comment