Student Spotlight: Chris Gnos (AKA Yung Esco)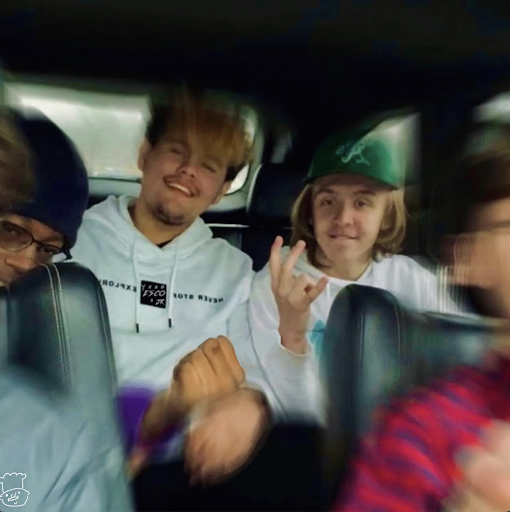 Rap culture has always been defined by a rags to riches archetype that pushes teens to come out with their own music. High school in itself is a time for self discovery, and for some, that is expressed through an interest in music. While others merely listen, there are those who venture to greater feats, and make their own. Chris Gnos, a senior otherwise known as Yung Esco, is one such individual. 
Chris grew up in Verplanck and attended the Hendrick Hudson Central School District for all of his life. Over the years, Chris has made lots of friends at Hen Hud, who have provided lots of support to him. One such friend even encouraged him to join the soccer team, a passion that Chris continues to hold dear. During his high school experience though, Chris began to focus on other things–most notably, music.
Chris started writing rap lyrics towards the end of his freshman year, as the pandemic hit. Like most of us, he had a lot of time on his hands at that point, and threw himself into music as an outlet. Around the same time, one of his musical acquaintances and fellow students, Jaden Robinson– also known as Luh Shotty– pursued a currently successful career in music. Robinson, a verified artist on Spotify, has almost 125k monthly listeners in addition to around 6 million streams on his song Who Got the Wok on the digital music service. This encouraged Chris to further commit to his new hobby, while continuing to value the significance of a high school diploma. 
While Luh Shotty was a catalyst to Chris' musical endeavors, Chris cites his true influence as Joseph Redmond. For those who didn't know, Joe, known to his friends as JR, is a recent Hen Hud graduate, videographer and director currently attending SUNY Purchase. Living close by, Joe continues to help Chris make music videos. "He really drove me to embrace my creativity with music and made me not be afraid to be myself when I'm making music". This is apparently the reason why he has so much fun making music with his friends, because then he can truly embrace himself among the people he feels most comfortable with.
More specifically to his music, Yung Esco has come out with a joint album with JR, as well as a plethora of singles and EPs. His songs include features with Hooligan Lou, Angs, Panama and <ilovemoses3. His music resembles the popular rap of today, with ethereal techno beats and rhythmic lines. He constantly works with his producer, Luis Angeles, also known as Master Lou, who makes all the beats. Chris said if he was left with Luis' computer to make his own music from scratch he "wouldn't even know where to start."
When making his music he finds he just has to get into the right mindset or things don't click. Chris hates forcing his music just to try a new style, and finds he needs to absolutely love it before deciding to put it out to the world. Especially in terms of trying new techniques, Chris strives for perfection. Recently, he worked to add a drill style beat, a subgenre of rap, to one of his newer songs.
In terms of other artists, Chris would love to work with Tyler, the Creator in his heart of hearts. What Chris loves most about Tyler, the Creator is his ability to alter music styles constantly. "Everything he comes out with is different, it's never the same and I want to do that too." Chris tries to take elements of his music and converge them with styles taken from his favorite artists. He also sees Wiz Khalifa as a stylistic inspiration, and as someone supremely underrated. Something Chris wants to explore more is sampling. He's already done so in a song called Space Ranger. He got the idea from listening to people like Freddy Dred, who often uses samples from soul and funk records in his music.
It's clear that Chris has plans for the future in terms of his music. He wants to continue to grow as an artist and hopefully gain some fame through his work. After high school, he plans to put out more music and book some gigs to get his name out there. Even if his pursuits go awry, Chris plans to continue making music as a hobby. He wants to go to college, likely undecided, and is thinking about going into the music industry whether it's for his lyrics or not. He has big dreams for potential fame, but will no doubt remain in touch with his high school friends along the way. In a shout out, he thanked his friend Kieran Muller for being with him through this journey.
Yung Esco's music is available for listening on Apple Music, Spotify, and YouTube.