Fit of the Week 10/31-11/06
Over the past week, our photographers have been on the lookout for outstanding outfits at Hendrick Hudson. This week's winner was Castalia Litos, with runners-up Sage Weidenbaum, Ally McManus, and Chloe Haseltine.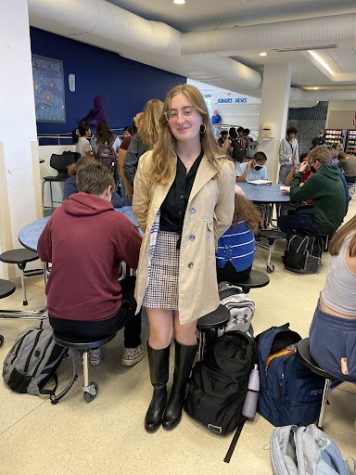 Castalia presented a sophisticated, seemingly British-inspired look, displayed by the neutral tones of her outfit and use of plaid. A silky black button down tied in the front pairs nicely with a similarly glossy pair of knee high boots. Her black, white and red plaid mini skirt coincidentally matches the lining of her beige trenchcoat. The look is embellished with medium size gold hoop earrings and clear glasses. Every ingredient of this look–from the sharp cuts in length, to her layered collars– gives Castalia an air of relative refinement 
This week's vote included lots of neutral, earthy tones. Sage is pictured in a pale look made up of an oversized cardigan complemented by a floral printed maxi skirt. A generally beige fit, the little blue flowers on the fabric of her skirt give a subtle hint of color. Further, Ally wore a cream colored cable-knit cardigan paired with forest green jeans. The look included a cropped white muscle tank with a graphic to match her pants and white platform Chuck Taylors. Chloe sported a casual fit with a black, self-cropped, short-sleeved graphic tee and olive cargo pants with white stitching. The top was enhanced with matching black Chuck Taylors.
Hen Hud had some amazing wardrobes this week and Castalia's outfit pulled ahead in this week's Fit of the Week competition. Keep serving great fits! Next week will be a special edition so check our Instagram @henhudanchor for an update!
To submit photos for the Fit of the Week, DM us on Instagram, or contact any of our photographers: Maddie Figueroa, Jericho Shea, Emily McGrath, and Quinn Muller. 
See the runner-up's outfits!
Leave a Comment
About the Contributor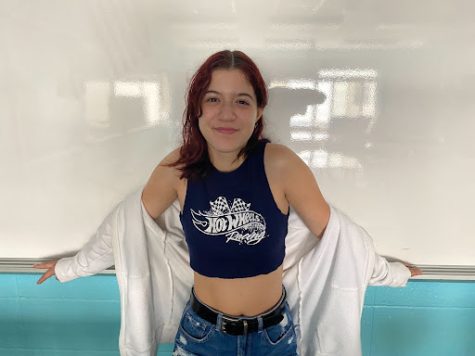 Quinn Muller, Writer
Quinn is a senior at Hen Hud, and this is her first year on The Anchor. She is the Co-Editor in Chief and runs Fit of the Week. In her free time, she...