Fit of the Week: September 27th – October 2nd
Over the past week, our photographers have been on the lookout for outstanding outfits at Hendrick Hudson. This week's winner was Stella Allen, with runners-up Lexi Schaffer, Josh Weinstein, and Jazmine Maya.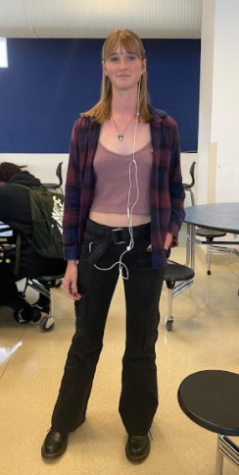 Stella caught our eyes with her Dr. Martens—a signature piece of hers–tied together with a casual tank and flannel. She delicately balanced out the dark tones of her outfit with the light mauve of a simple tank top. Accessorized with dark nails, a staple necklace, and a subtly patterned belt, Stella provides a bit of an edge to a classic look. The addition of cargo-style low-waisted flare jeans to this fit adds a sneak peek to her statement choice of shoe.
This week's vote was very close between Stella and Lexi, who wore an earth-toned fit with a nicely paired argyle sweater vest, plain white tee, and dark brown corduroy jeans. Josh Weinstein is pictured in an electric blue statement sweater and matching checkerboard sweater vest, his bold style not unnoticed. Further, Jazmine kept it classic with a black and white look, highlighting a dope zebra print bodycon skirt and glossy combat boots.
Hen Hud had some amazing wardrobes this week and Stella's outfit pulled ahead in our first Fit of the Week competition. Keep serving great fits!
To submit photos for the Fit of the Week DM us on Instagram @henhudanchor or contact any of our photographers: Manuela Carvajal, Jericho Shea, and Emily McGrath.
View the Runner-Ups' Outfits!
Leave a Comment
About the Contributor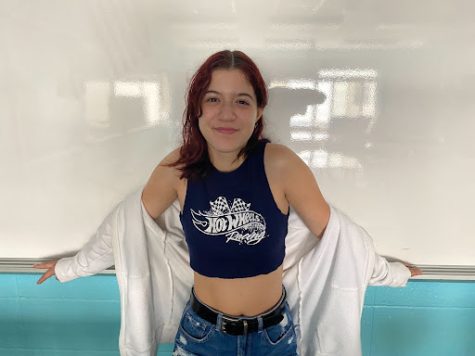 Quinn Muller, Writer
Quinn is a senior at Hen Hud, and this is her first year on The Anchor. She is the Co-Editor in Chief and runs Fit of the Week. In her free time, she...