Mission Accomplished: Operation Cookie Monster
This Holiday Season, The Stars and Stripes Club launched Operation Cookie Monster, delivering over 970 cookies to the Montrose VA Hospital. Both students and faculty donated a range of pre-packaged cookies, including Chips Ahoy, Oreos, Pepperidge Farms, and many others to provide vets with holiday cheer and some much-needed desserts. 
Club member, Gabe Capicotto, promoted this fundraiser by giving his impression of the well-known Sesame Street actor, Cookie Monster over the morning announcements, bringing lots of holiday spirit to all of Hendrick Hudson High School.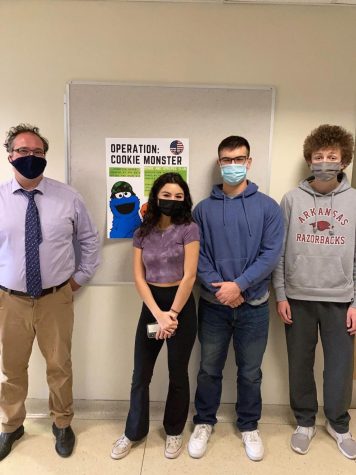 Although many view the winter season as the most wonderful time of the year, this is not the case for many veterans. During the holidays, it is easy for elderly veterans to feel isolated from their families and the rest of the community so it is important that we remember to spread the festivities. Donating a box of cookies may not seem like much, but simple acts like this can bring a big smile to a veteran's face.
The Stars and Stripes Club is always looking for new members that can assist with future projects. The club's major goal is to contribute to the Veterans History Project which is the Library of Congress' collection of firsthand accounts from veterans. As shown with the cookie fundraiser, the Stars and Stripes Club also operates on a local level and strives to complete even more projects that benefit the vets in our community. 
"I'm very impressed by the caliber of students who gravitate towards the civic-minded Stars and Stripes club. They really exceeded my expectations." Said club advisor, Mr. Codner. 
If you are interested in serving the community and getting the chance to support our veterans, please join the Stars and Stripes club!