The Anchor Needs YOU!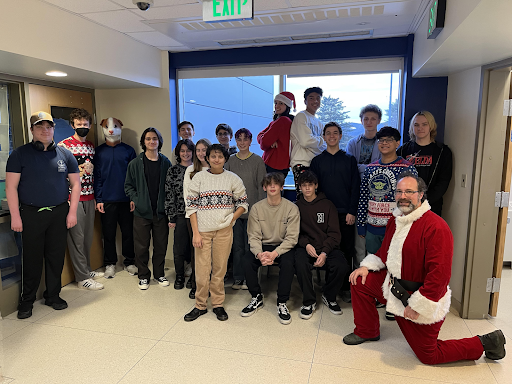 If you've ever read anything in The Anchor online or in print, you've seen articles from dozens of students who are just like you. Every student has an interest – be it clubs, politics, sports, video games, fashion, movies, books, or even staring into a cell phone. The only difference between you and the writers of The Anchor is that they either attended a club meeting or signed up for the Journalism elective, with no prior experience. By doing so, they joined a welcoming community that encouraged them to write manageable stories and supported them with editing and layout to make their writing shine.
This year brought a trove of new student journalists, as Max Cannon, Mikhael Mani, and Tyler McGuigan reviewed video games. Vera Montalbano broke a front-page sports story, Quinn Muller highlighted a new fit every week. Zach Zalamea covered the World Cup and international news. Ethan Bromley argued with himself about hot dogs and the wetness of water. Justin Corado covered music. Emily McGrath predicted fashion. Francisco Aguirre-Ghiso got hundreds of views for his movie reviews. John May, Sarah Nabi, Aidan Schneider, Simon Eichenholtz and Hayden Bouza wrote about everything under the sun. 
Many of the above-mentioned first-timers took leadership positions starting on day one, aided and inspired by veteran reporters like Kacie Burns, Castalia Litos, Elaine Clarke, and Bixby Piccolo-Hill, who churned out high-quality content while encouraging first-year writers to do the same.
These students not only get their name in print and online for posterity, but will also include their published articles in their college applications, showing admissions officers their best-polished writing and involvement in the school community.
As The Anchor builds momentum, I'm excited to see new faces at each club meeting and to speak with rising Seniors and Juniors who have signed up for next year's Journalism class. If you haven't signed up for the Journalism class, I encourage you to do so. Not only will your work end up in print, but you'll also learn how to write like a reporter about the things you want to write about. And that's much more fun than a Literary Analysis essay.  If you're a freshman this year, consider attending one of our meetings on the first or third Thursday of the month. I think you'll dig the vibe.